Friends With Benefits Movie Scenes
4 Unrealistic FWB Scenarios in Friends With Benefits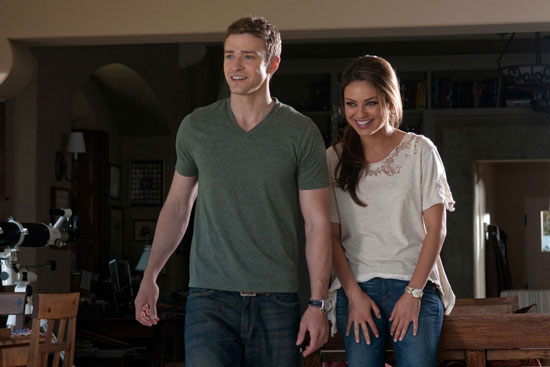 Justin Timberlake and Mila Kunis's Friends With Benefits comes out next week, and while I thought it was funny and entertaining — plus who can complain about the JT eye candy? — some of the scenes miss the mark when it comes to the realities of a FWB relationship. The movie has several digs at the formulaic Hollywood rom-com, but even with a raunchier edge to it, the just-sex arrangement has been Hollywood-ized. Here are some unrealistic FWB scenarios from the movie.
Grand gesture: The whole nature of a FWB situation is that it's casual, which means grand gestures like the "running after the girl scene" and last-minute flash mobs probably aren't in the cards (never mind the logistics of organizing a flash mob).
Not jealous: When Mila's character Jamie starts dating someone else, Dylan (JT) seems a little down that he can't hang out with her, but not really jealous. Then it ends, and Jamie and Dylan go back to being FWB. In real life, it would have completely complicated things to go from their arrangement to dating other people. The new boy would have been jealous she was talking to a friend she used to sleep with, Dylan would have been angry and jealous, and they probably would have ended up sleeping together while she was still dating the other guy.
Meeting the family: For both Dylan and Jamie to meet each other's families is a stretch. Many couples don't even meet the families until the relationship is serious, and Dylan and Jamie aren't even in a relationship because they don't want the commitment. If you don't want commitment, you definitely don't want to involve family.
Overlooking pet peeves: Dylan has some weird bedroom quirks like feeling emasculated when she's on top (um, really?) and wearing socks in bed and the shower. They act like both are free to do whatever without it annoying the other person since they are "just friends," but in reality if you're sleeping with someone long enough, the quirks are going to bug you the same as if you're in a relationship. It can't be separated that easily.
Disagree? Then share your own FWB experiences in the comments!