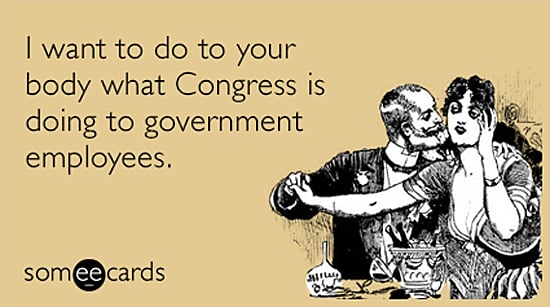 Oh, it's on. The government shutdown, that is. And while it's as serious as jobs, services, and national monuments being put on hold, thankfully the Twittersphere is here to inject some humor into the situation (like it did with #NSAPickupLines). Using the hashtag #shutdownpickuplines, funny people everywhere are chiming in with brilliant pickup lines that make "How you doin'?" look like child's play. Scroll on and take note for tonight when you're at a bar next to some cutie. Just kidding — kind of.
Do you work for the government? Because you shut. it. down. #ShutdownPickupLines

— Erik Burkhart (@HuskerInsanity) September 30, 2013
Where have you been sequestered all my life? #ShutdownPickupLines

— Jennifer Mendelsohn (@CleverTitleTK) September 30, 2013
Hey, I just met you, and this is crazy, but I'm on furlough, so call me, maybe? #ShutdownPickupLines RT @SaraLang

— Mark Hanis (@MarkHanis) October 1, 2013
Click here for more!
Are you a jogger? Because you've been running massive deficits through my mind all night. #govermentshutdownpickuplines

— Ross A. Lincoln (@Rossalincoln) October 1, 2013
You down for some Fore-Score Play at the Lincoln Memorial? It's unguarded. #ShutdownPickupLines

— M (@utersgirl) October 1, 2013
Health care? You bet I'm in favor. I like my friends to have benefits. #governmentshutdownpickuplines

— Charlotte Moore (@cavaticat) October 1, 2013
My government pulls out but I don't. #governmentshutdownpickuplines

— Chalupa Batman (@NotSouthernGent) October 1, 2013
Unlike congress, I'd approve of you before midnight. #GovernmentShutdownPickupLines

— Occupy Wall Street (@OccupyWallStNYC) October 1, 2013
The library of congress is closed, so can I check you out? #governmentshutdownpickuplines

— Kate. (@KateCSunnyDee) October 1, 2013