Funny Pun Tweets
The Punniest Tweets of the Year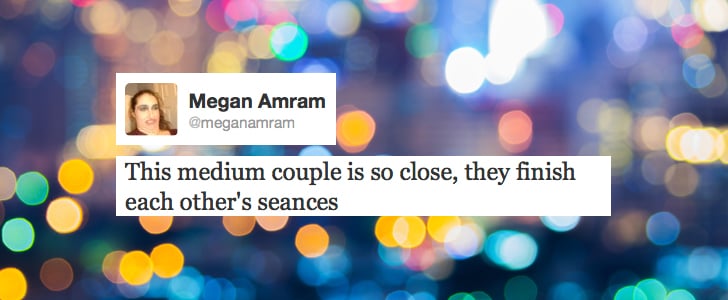 Insert pun here. Sure, we could try to come up with a clever pay on words about Twitter, but we'd rather leave it to the pros. We've been giggling over the genius and ridiculous pun-filled tweets this year in our weekly Tweets Girls Say so much that we decided to round up the best of the best for your enjoyment. Check them out below, and don't forget to follow POPSUGARLove on Twitter!
Me and this chicken broth are about to consommé our relationship hahaha good one shira

— Shira (@shiraselko) October 7, 2013
Hot singles in urea want your kidneys

— Karen Kilgariff (@KarenKilgariff) September 16, 2013
I went back to check if I left the coffee pot turned on and I must have because it was wearing a thong and listening to Marvin Gaye.

— Stephanie McMaster (@Smethanie) August 20, 2013
This medium couple is so close, they finish each other's seances

— Megan Amram (@meganamram) October 25, 2013
Click on for more puns!
look. maybe i made a pun at the grocery store tonight. maybe i said "at yeast you tried!" and winked. maybe i didn't

— kitty shcherbatsky (@debbie_hairy) October 22, 2013
Anyone try Magnum Ice Cream? I've got a freezer full of Just the Tip Pops I gotta finish first

— Allison Fields (@allisonfields) July 22, 2013
More like MAN OF FEEL. Am I right? Because he has feelings.

— Megan Ganz (@meganganz) June 16, 2013
if god is omnipotent why doesn't he just take viagra like every other old white guy

— Li'l Edie Surly (@JennyPentland) August 16, 2013
Michael Douglas will go down on history for this.

— Morgan Murphy (@morgan_murphy) June 3, 2013
i can pinpoint when i fell more in love with my girl and that would be when she said "lana del gay" very casually

— snow angel babe (@debbie_hairy) October 30, 2013
"More like Buns of Anarchy am I right?" I said to my hamster last night while watching SOA.

— Lori (@HeyitsLori) November 13, 2013