Funny Tweets About Cats
Cat-Lady Love: The Year's Funniest Feline Tweets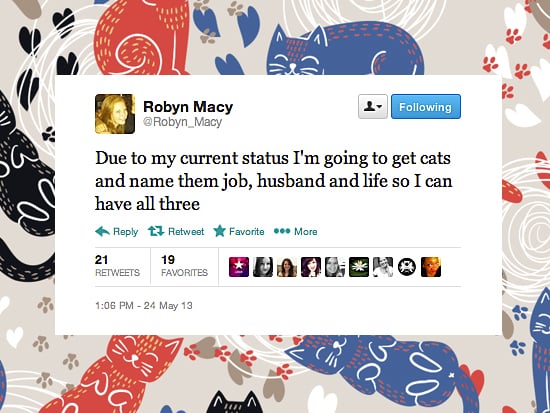 These days, being a cat lady is something to shout from the rooftops. Or, if you're a funny lady, something to tweet about from behind your computer screen. We've been sharing ladies' words of wisdom and hilarity every week in Tweets Girls Say, and now we're rounding up some of the best of the best tweets for your end-of-the-year enjoyment. Whether they're talking about their love of cats or their lack of love, this edition is all about their feline-related funniness. Check it out right meow!
Due to my current status I'm going to get cats and name them job, husband and life so I can have all three

— Robyn Macy (@Robyn_Macy) May 24, 2013
Sitting at the bar with a gay man and a bag of cat food. I can't make this shit up. #singlegirlproblems

— Single Girl Problems (@snglegrlprblms) June 26, 2013
Yes, the carpet DOES match the drapes. Both are covered in cat hair.

— Chelsea Davison (@chelsea_davison) September 24, 2013
Prominently featured shot of the woman's wedding ring? You're not fooling anyone, cat food commercials.

— Anna Kendrick (@AnnaKendrick47) June 23, 2013
"Do you smell that? I smell like wine and my owner's desperation at being a twenty-something cliche." -My cat at her next vet visit.

— Mandi (@MandiHarris) July 18, 2013
Keep reading for more funnies!
At this point in my dating career, I think it's time to get a starter cat.

— Julia Gazdag (@JaaaaaayGeeeeee) August 28, 2013
Just walked into my apartment singing 702's "Where My Girls At," to my cats, if anyone's curious about my relationship status.

— Vanessa King (@manhattancanuck) October 29, 2013
There's a big difference between "woman" and "lady." Cat woman is a sexy super villain. Cat lady is me in 20 years.

— Chelsea Davison (@chelsea_davison) October 17, 2013