Funny Tweets About Relationships 2013
The Perks and Pits of Long-Term Relationships in Tweets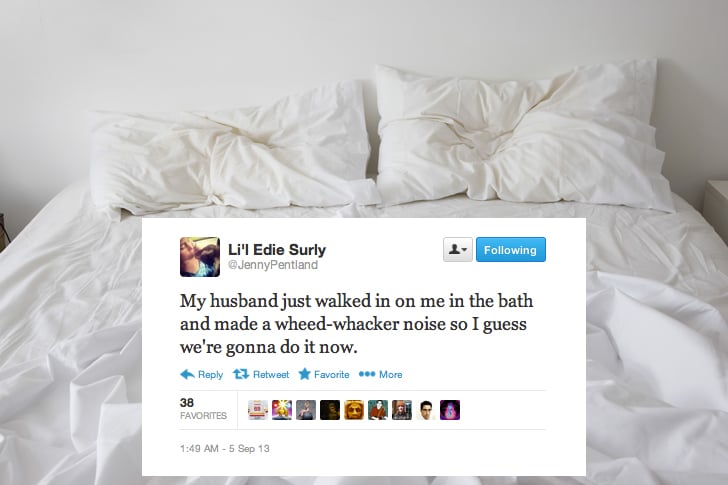 We recently brought you the funniest Tweets of the year on being single, and now it's time for another dose of the best Tweets Girls Say from 2013. This time, we're talking about the ups and downs of being in a long-term relationship. Anyone who's married or been with a guy or gal for a long time knows all about unsexy pleas for sex and belly button lint — but leave it to the funniest women on Twitter to tell the world about it. Check out the highlights below and don't forget to follow POPSUGAR Love & Sex on Twitter for more funnies!
Never go to bed angry if your partner hasn't cut their toenails in a while.

— Stephanie McMaster (@Smethanie) June 12, 2013
Husband Quote: "Wanna suck it real quick, it's clean?"

So I guess that whole chivalry is dead thing is bullshit

— Kim (@Kim_pulsive) October 5, 2013
no babe its our belly button lint now

— stuffy summers (@home_napping) November 22, 2013
Check out more laughable Tweets!
My husband is walking around half-naked in front of the cable guy like they've been dating for 7 months or something.

— Sarah Thyre (@SarahThyre) October 27, 2013
My boyfriend is coming home tomorrow so I'm savoring my last open-door pooping the way a death-row inmate savors his last meal.

— Stephanie McMaster (@Smethanie) August 29, 2013
Marriage is basically listening to your husband swear and scream at scanners/printers from another room.

— kelly oxford (@kellyoxford) October 3, 2013
Falling in love doesn't sound like my thing but not getting out of bed to turn the light off does.

— Stephanie Mickus (@smickable) August 26, 2013
My husband just walked in on me in the bath and made a wheed-whacker noise so I guess we're gonna do it now.

— Li'l Edie Surly (@JennyPentland) September 5, 2013