Funny Tweets About Sex and Food
Best Tweets of the Year on Sex and Food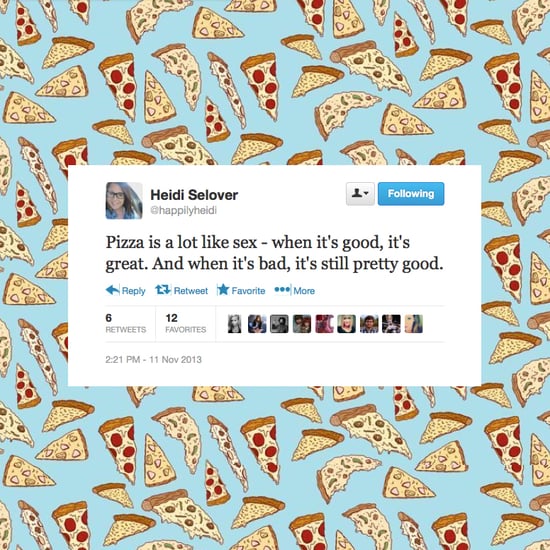 When it comes to having a sexual appetite vs. having a hankering for pizza — sometimes food wins out. And no one knows this better than the funniest food-loving women on Twitter. We've been sharing these ladies' words of wisdom and hilarity every week in Tweets Girls Say, and now we're rounding up some of the best of the best tweets for your end-of-the-year enjoyment. Our first topic is one near and dear to our stomach — the sexy side of food. So grab a slice, and laugh on!
I'm buysexual, you buy me food, I become sexual

— sorry i'm not sorry (@sorrynotsorryy) August 3, 2013
I'm sorry I made sex noises while the waiter was reading the specials.

— Lori (@HeyitsLori) August 13, 2013
looking for a part time boyfriend penis-optional kissing-optional chipotle-mandatory

— erin (@home_napping) November 12, 2013
Read on for more foodie funnies.
really want sex but i guess a s'more will do

— Sputnik Sweetheart (@Verlieren) November 5, 2013
People I graduated high school with are on their 4th kid, and I'm just thinking about how many pieces of pizza I should eat tonight.

— Heidi Selover (@happilyheidi) October 29, 2013
I never look sexier than when I'm sliding out of a long booth at a Mexican restaurant.

— e. spivey (@spivey_e) September 29, 2013
Is it crazy to relocate for love? Of a hot dog?

— Allison Fields (@allisonfields) September 25, 2013
Hey, all of my high school friends are getting engaged, but I'm in a monogamous relationship with Zesty Ranch Kettle Chips, so who wins?

— Meghan O'Keefe (@megsokay) September 4, 2013
I'm ashamed to say it, but I would marry Jesus for some Chick-Fil-A

— Paige Baker (@vpbaker) August 17, 2013
Ladies: Fries before Guys.

— Maritza Lugo (@PolaRoid_Rage) August 21, 2013
If you don't bring me peanut butter pie later it's not that we are breaking up so much as it is we won't be dating anymore.

— Stephanie Mickus (@smickable) August 22, 2013
if a boy asked me out and handed me a pizza i'd say yes.

— steph in space (@spacecadetsteph) July 15, 2013
I enjoy long, romantic strolls to the refrigerator

— 50 Shades of Awkward (@OhWowThatsAwk) June 26, 2013
Pizza is a lot like sex - when it's good, it's great. And when it's bad, it's still pretty good.

— Heidi Selover (@happilyheidi) November 11, 2013