Funny Tweets From October 2013
Tweets Girls Say: Titanic Love Lessons and Tech Threesomes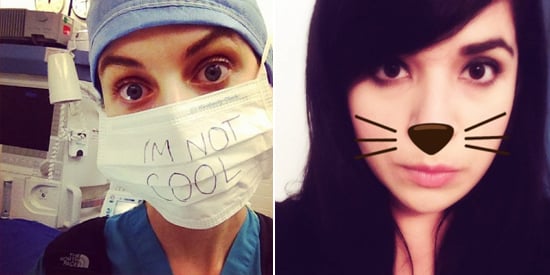 It's that time again; time for the funniest tweets of the week! The ladies of Twitter took to the social site to share all sorts of useful (and ridiculous) tips and musings about sex, dating, and singlehood. We now know what "taking a relationship to the next level" really means, what the real lesson of Titanic is, and how to get help moving furniture. Get all this and more in this week's Tweets Girls Say. Check 'em out now, and don't forget to follow POPSUGARLove on Twitter!
How about single and ready to
Pringle

?
never call yourself single please only call yourself "on the prowl"

— debbie scary (@debbie_hairy) October 24, 2013
It doesn't weird out the guy at all.
put a pic of my ex on my nightstand when I'm hookin up with a guy bc I like to pretend he is watching me then I draw tear drops on his face

— sallybrooks (@sbrooks13) October 24, 2013
Kids these days.
i hate to see girls dating poor dudes like they learned nothing from titanic

— victoria (@theblowout) October 25, 2013
It's neverending.
Now that gay marriage is legal in New Jersey, my mother can complain that I can't find a nice Jewish woman to marry either

— Shira (@shiraselko) October 21, 2013
Read on for more giggle-worthy tweets!
That explains all the missing person signs . . .
Hanging up MISSING PERSON signs for every guy who never responded to my texts.

— jacqueline carbajal (@jackiecarbajal) October 22, 2013
Good one.
This medium couple is so close, they finish each other's seances

— Megan Amram (@meganamram) October 25, 2013
Rejection is the worst — almost as bad as a McDonald's pumpkin latte.
Asked someone to bring me coffee & they brought me a McDonald's Pumpkin Latte. What a subtle way to say "this romance isn't going anywhere."

— Mandi Harris (@MandiHarris) October 24, 2013
At least it was productive.
Yes this date is going swimmingly that's why I peeled off all my nailpolish and took a Xanax and wrote a long email to my Mom during dinner.

— Bez (@Bez) October 20, 2013
Now that's a threesome I can get behind.
And as he spooned me, I spooned my phone tweeting and texting all the while thinking -- I hope the 3 of us will be together forever.

— Farah Brook (@farahbrook) October 21, 2013
It's only fair.
My greatest wish is for every guy who has ever rejected me to end up with a girl who refuses to give blowjobs.

— Tricia (@Im_Tricia) October 23, 2013
The best kind of level.
i want my boyfriend to take this relationship to the next level and get me a puppy.

— erin (@home_napping) October 20, 2013
It's a classic love-hate relationship story.
The heart warming journey of a young single woman learning to love her upper arms... Sleeveless in Seattle.

— Alex Anderson Conrad (@Sashalaa) October 20, 2013
So, so true.
I don't get why people have sex with strangers when I don't even want them to make eye contact with me

— priscilla (@BBW_BFF) October 20, 2013
Not great.
I'm not saying I'm in a slump, but in the past year I've used Bing more times than I've had sex.

— Morgan Murphy (@morgan_murphy) October 22, 2013
You'll have that "moving day" glow.
Wonder if the guy I'm goin on a first date with will mind if instead of going to dinner we go pick up some furniture I bought off Craigslist

— AmberTozer (@AmberTozer) October 22, 2013