Funny Tweets For Single Women
Best Tweets of the Year on Being Single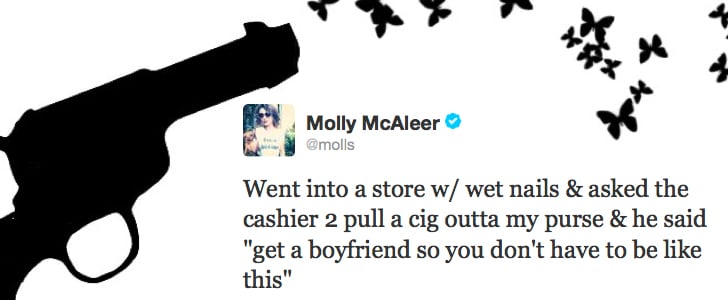 We're continuing to share the best of 2013's Tweets Girls Say, to finish off the year on a high(-larious) note. One topic the funniest women on Twitter were especially well-versed in was singlehood: its ups, its downs, its if-I-don't-laugh-I'll-cry moments. Any woman who has ever been single is sure to relate to these lol-worthy tweets. Check them all out below, and don't forget to follow POPSUGARLove on Twitter.
why are girls like "oh it's december i need a boyfriend to keep me warm" no you can buy a coat like the rest of the single people

— Typical White Girl (@TypicalGirI) September 3, 2013
My tombstone is going to read: "Told you I'd never find love."

— Tricia (@Im_Tricia) October 10, 2013
The next time someone asks "When are you going to get married and have kids" I'm gonna be like "Ummm May 11th 2016"

— AmberTozer (@AmberTozer) October 9, 2013
Keep reading if you're single and ready for Pringles.
my favorite thing i do is constantly complain no one will date me while simultaneously running away from everyone who wants to date me

— Sputnik Sweetheart (@Verlieren) September 17, 2013
Went into a store w/ wet nails & asked the cashier 2 pull a cig outta my purse & he said "get a boyfriend so you don't have to be like this"

— Molly McAleer (@molls) August 31, 2013
gonna stop calling it "ALONE FOREVER" and start calling it "dating myself," i mean i'm pretty great

— Sputnik Sweetheart (@Verlieren) October 10, 2013
Yes Cher I do believe in life after love otherwise I'd have to kill myself

— AmberTozer (@AmberTozer) September 2, 2013
Just bought the scent of flannel for my car so people think I'm dating.

— jacqueline carbajal (@jackiecarbajal) September 26, 2013
Being single is cool bc you can eat a whole jar of pepperoncinis and spend the rest of the night farting spicily into the abyss

— Shira (@shiraselko) October 3, 2013
just dropped my new single it's me i'm single

— Common White Girl (@girlposts) August 19, 2013
I want to ask you guys for Candy Crush cheat codes but also want to play fair but also don't want to be single this holiday season.

— Molly McAleer (@molls) August 20, 2013
I like to walk through people holding hands because fuck your happiness

— Joselyn Hughes (@joselynhughes) August 28, 2013
the best thing about being single is sleeping around. you can sleep all over that big lonely bed of yours. left, right, middle, wherever.

— 50 Shades of Awkward (@OhWowThatsAwk) August 12, 2013
I'm single but sometimes I look in the mirror and practice telling my mom that I'm getting a divorce.

— Morgan Murphy (@morgan_murphy) July 30, 2013
never call yourself single please only call yourself "on the prowl"

— snow angel babe (@debbie_hairy) October 24, 2013
REASONS TO STAY SINGLE: a. get to focus on yourself b. get to eat both fortune cookies c. get me a bigger notebook to list more reasons

— Stephanie Mickus (@smickable) November 14, 2013
Sometimes I look at engagement photos to feel better about being single. How mean is that on a scale of one to Regina George?

— Jess Tholmer (@tholmz) November 12, 2013
single and ready for pringles

— 50 Shades of Awkward (@OhWowThatsAwk) October 7, 2013
I wouldn't mind being in couples therapy someday. Because that would mean I'm in a couple.

— Megan Ganz (@meganganz) October 10, 2013