Funny Tweets For Women Halloween 2013
Tweets Girls Say: Drunk Texting and Boners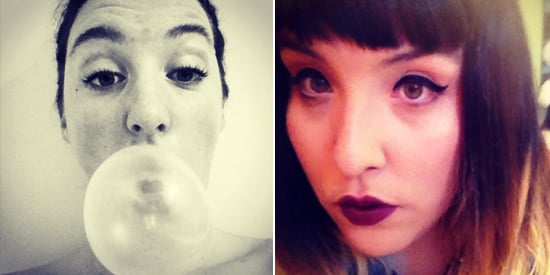 Pull your post-Halloween self together for the best tweets of the week! The comediannes of Twitter have kept us giggling with their inappropriate and hilarious musings and advice on sexting, awkward situations, and why Friends is sexually exciting. Also on the agenda, fast food online dating and erection emergencies. Check 'em out now, and don't forget to follow POPSUGARLove on Twitter!
I'm all hot and bothered, I don't know about you.
Sext: My doctor said I should wait until my irritable bowel syndrome calms down before I have sex but I'm feeling adventurous - COME OVER!

— sallybrooks (@sbrooks13) October 30, 2013
But that'll do as well.
need a hug and not even the naked kind with a boner just a regular one

— Bez (@Bez) October 29, 2013
A typical convo between girlfriends.
"This weird guy came up to the counter at work today." "Was he my kind of weird?"

— Maritza Lugo (@PolaRoid_Rage) October 26, 2013
Relationship status: "awesome"?
Just walked into my apartment singing 702's "Where My Girls At," to my cats, if anyone's curious about my relationship status.

— Vanessa King (@manhattancanuck) October 29, 2013
Get more funny after the break!
Joey is pretty sexy.
After 15 years of marriage, I'm finding these episodes of Friends where Joey and Rachel are dating to be legit sexually exciting. :(

— kelly oxford (@kellyoxford) October 30, 2013
I'd jump into bed with McDonalds fries, just sayin'.
Friday, McDonalds ended a 40 yr relationship with Heinz. So ladies, watch for OKCupid messages from FryGuy4U, YoungMcDonald, or Clamburglar.

— Chelsea Davison (@chelsea_davison) October 28, 2013
Easy mistake.
Turns out when a guy lights a pumpkin he isn't "setting the mood" and now I've ruined a family tradition.

— jacqueline carbajal (@jackiecarbajal) October 31, 2013
Get it.
I'm currently in between cable providers. In bed. Both are great lovers.

— Stephanie Mickus (@smickable) October 31, 2013
Who wouldn't fall for a good pun?
i can pinpoint when i fell more in love with my girl and that would be when she said "lana del gay" very casually

— debbie scary (@debbie_hairy) October 30, 2013
It's a very important decision.
People I graduated high school with are on their 4th kid, and I'm just thinking about how many pieces of pizza I should eat tonight.

— Heidi Selover (@happilyheidi) October 29, 2013
Maybe they have?
My husband is walking around half-naked in front of the cable guy like they've been dating for 7 months or something.

— Sarah Thyre (@SarahThyre) October 27, 2013
Seriously.
Sext: I didn't cut my toenails and partially shave my legs for nothing, so get over here and mount up.

— Stephanie McMaster (@Smethanie) October 26, 2013
Men do love their boners.
Call your doctor if you have an erection lasting more than four hours or if you just want him to look at your cool boner.

— Alison Agosti (@AlisonAgosti) October 27, 2013
When is sober hooking up a thing?
my sister is like how do i get a boyfrannnn but she's also a mormon and SORRY SOBER HOOKING UP IN COLLEGE ISN'T A THING

— Sputnik Sweetheart (@Verlieren) October 29, 2013
Prove it.
I'm like, SCARY good at drunk texting exes.

— April McLean (@april_mclean) October 31, 2013