Future of Feminism Might Depend on Liberation of Men
Future of Women's Lib Might Depend on Liberation of Men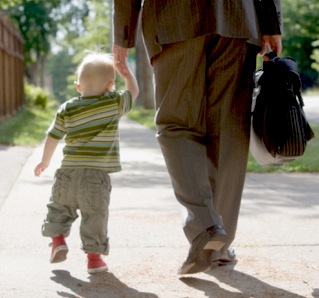 Whatever wave of feminism we're riding right now, it's clear women have made progress. The cover story of this month's Atlantic went as far as declaring the end of men, because women now represent the majority of the US workforce, get more degrees, and dominate middle management. But reality isn't all rosy, as women still make less and run fewer companies, and a piece in today's New York Times explains that while women catch up in the classroom and boardroom, filling roles previously held for men, men must now fill traditionally female roles. Katrin Bennhold writes:
The feminism of the future is shaping up to be about pulling men into women's universe — as involved dads, equal partners at home and ambassadors for gender equality from the cabinet office to the boardroom.
Although young women receive more degrees and management titles, motherhood often means taking time off or moving to part-time work. Bennhold says that in addition to giving women flexible hours and secure jobs when they want to return, companies should turn their attention to the men. In Iceland, for example, nine in 10 men take paid time off to care for their child, a step considered just as important to women as gaining the right to vote. It's all about changing current expectations, which often results in men not hesitating to schedule a late meeting because the mom has the duty to get home to the kids. Bennhold says it's crucial for successful men to lead by example, by prioritizing family over work sometimes, just like women are expected to do.
Bennhold makes a good case that a better sharing of domestic responsibilities is the next step to realizing greater gender equality, and the fact that sharing housework is the third most important factor in a happy marriage, it's good for your relationship, too.