Gabrielle Bernstein's Spirit Junkie Release
Spirit Junkie: 5 Romantic Reminders From Gabrielle Bernstein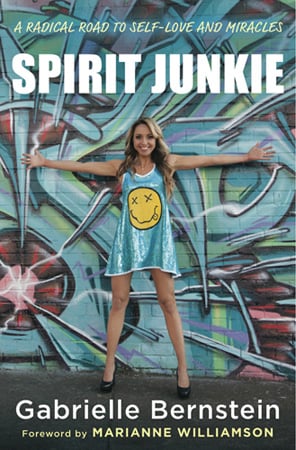 If you haven't heard of the Spirit Junkie Gabrielle Bernstein yet, get used to hearing this girl's name a lot more. Dubbed the new Carrie Bradshaw for go-getting thirtysomethings, Gabrielle is a best-selling author, life coach, and all-around inspirational chick.
After becoming disenchanted by a world where she looked outward for all her happiness, Gabrielle made the shift to turn in and get honest. She set out on a quest for something else, something greater. She shares her personal journey of self-discovery and, as she calls it, "the keys to the kingdom" in her newest book, a September must read, Spirit Junkie: A Radical Road to Self-Love and Miracles, out today!
Gabrielle and I chatted about her journey, her new book, and her advice for women looking for a meaningful life, full of love. Here are five tips I learned about romantic relationships from Gabrielle Bernstein, the Spirit Junkie:
If you want to be treated well by others, start being kind to yourself.
"Believing in our self-worth is a full-time job. If we want to feel supported and loved by others, we've got to make sure we're supporting and loving ourselves. If we want to feel inspired by others, we've got to be inspiring ourselves. When we're working on loving ourselves more on a daily basis, then we can really get into relationships where that self-worth is being reflected back to us. You treat yourself a certain way first. Becoming hyper-conscious and looking at the ways in which you've been honoring yourself, versus the way you've been really disrespecting yourself, is a great way to start to pay attention to how you're contributing to your potential, or your lack, for self-worth."
Don't seek your romantic happiness from one source.
"Some of the best relationship advice I've ever been given is to not put all the pressure on one individual. For me, I recognized that there are romantic sparks in all my relationships and all my life experiences. There are romantic sparks in my friendships with women. There are romantic sparks in my inspiration from my career. There are tremendous sparks in my family relationships. That can really even the playing field so I'm not putting all that pressure on my romantic partner to be my primary source of happiness."
All relationships are opportunities to grow. Breakups included.
"When we're in relationships that bring up a lot of our stuff, whether it's a romantic relationship, a business relationship, or a friendship, it's always a tremendous opportunity to look inward and ask, 'What is it I need to work on that's going to heal more so I can learn more and love more and heal in a more fluid way?' Particularly in romantic relationships, the first thing we want to do is say, 'This guy screwed me.' Then, we can move on and protect ourselves. But there's huge opportunity in those situations! Rather than using fear as the acronym for F*ck Everything And Run, ask, 'What do I have to learn here? What's my part in the situation? How can I grow? Can I learn more how can I love more from this experience?'"
Looking for real love? Read two more tips from the Spirit Junkie.
Let technology help you out.
"I think the Internet has been tremendous for romantic relationships. I mean, my mom met her husband on Match.com; it's a whole new platform for creating romance in your life. So what's cooler than that? You can really just activate such a presence of new love and new potential for love through these types of platforms. If used wisely and used to your benefit, then you can really experience some really amazing shifts through being on the Internet."
If you want the romance, you've got to do the work.
"The best way to call in a romantic partner into your life is just to clean up your side of the street. Do everything you can to really open up your inner guiding system so you can live in a much more fluid way."
Look for the second part of our series with Gabrielle Bernstein, Spirit Junkie, later this week. And for more information on Gabrielle and her work, visit Gabbyb.tv.