Gabrielle Bernstein Spirit Junkie Release
Spirit Junkie: 4 Reasons to Rethink Fear From Gabrielle Bernstein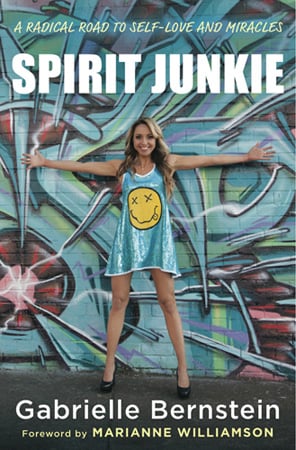 Gabrielle Bernstein, also known as Spirit Junkie, is a best-selling author, life coach, and all-around inspirational chick. She shares her personal journey of self-discovery and, as she calls it, "the keys to the kingdom" in her newest book, a September must read, Spirit Junkie: A Radical Road to Self-Love and Miracles, available now! Just two days after its release, it's already No. 1 on Amazon for Spirituality.
She's already shared her advice, giving us five romantic reminders for more fulfilling relationships. Here is part deux: four reasons to rethink fear from Gabrielle Bernstein, the Spirit Junkie:
Fear has been a misused tool. "We have been taught everywhere, through the news, our experiences on the streets, in the office places, and in our education system; there are plenty of places for fear to be on the rise. Fear has been used as a vehicle to push people harder and try to help them achieve more. But instead of trying to use fear as a catalyst for change, there's another way to experience it."
Fear is different for everyone. "Fear comes to each person in individual forms depending on their life experiences. So it may be because you're carrying resentment from the past and you're replaying that fear in the present. Maybe you're projecting your fears onto other people. Maybe it's that they've been brought up to believe in fear. Or maybe it's because of the way they perceive their parents or their environment."
Be conscious of the decisions you make in fear and get ready to recondition.
"When we start to become conscious of fear, that's when we want to make change. But it proves to be very hard because our fear-based system resists it. So although there is that strong presence and desire for happiness within each of us, that presence for fear is much more alive, vibrant, and present. As it says in A Course in Miracles (the text that is a lot of the inspiration for Gabrielle's work), 'fear speaks first and loudest.' So we will experience that fear as the first thought in most situations, until we undergo the necessary reconditioning of our minds."
Fear isn't the only way.
"At some point in time, this fear has become an experience that becomes a thought. A thought becomes something we replay and repurpose in many different situations. All of my work is about helping the reader combat that fear and bulldoze that fear so they can create real positive change."
For more information on Gabrielle and her work, visit Gabbyb.tv.