Gay Man and Straight Woman Marry For Art Project in Worcester, England
Gay Man and Straight Woman Marry For Something Other Than Love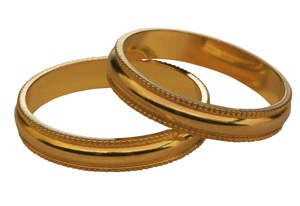 You might think UK university students Nora Battenberg-Cartwright (who's straight) and Paul Cartwright (who's gay) married to make a statement about gay marriage. But in fact the pair's nonsexual marriage is an exploration in "art unity."
We could add "art project" to our list of sham marriages, but Nora and Paul have real intentions to stay together. Nora explains that they will not consummate the marriage and have plans to see other people, but they also expect to be old and married together. She says, "By marrying ourselves we were in effect marrying art. If we ever decided that we got to the point where we wanted to marry another person, that would be the end of the art career, really." They say they love each other, in a different way, and plan to use the partnership as the foundation for their art.
Unsurprisingly, the notion that two people would marry for something other than heterosexual attraction has caused some to accuse Nora and Paul of mocking the sanctity of marriage. A national Christian leader says: "Marriage is not an art project, it is the life-long union of man and woman and part of that is the sexual act which is there for companionship and the raising of children." Someone should tell him that lots of married straight couples don't have much sex anyway!