Gay Softball League Kicks Out Straight Players
Gay Softball League: If You're Not Out, You're Out!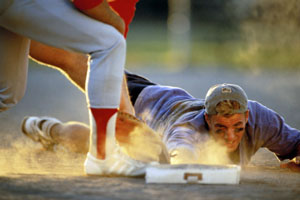 After coming in second place in the Gay Softball World Series, a San Francisco team lost its runner-up title and trophy because three team members were not gay enough. The players now have filed a discrimination suit against the national organization.
The league only allows two "straights" per team and the policy they use to enforce this can be described as: do ask, do tell. After a rival complained that the team in question had too many straight players, league officials separately called each of the three men into a conference room filled with 25 people for a hearing to determine their sexuality. After answering "intrusive" questions, the panel deemed the trio non-gay.
I suspect that a self-proclaimed gay sports league would naturally attract more gay people than straight people, and letting eager straight people in on the fun could have benefits. Why not let the membership work itself out, instead of taking on the problematic task of proving someone's sexuality? Plus, making a rule that you can only have two straight players could imply that they're better than gay players! Still, the league argues that as a private organization it has the right to say who can be a member. Whose side are you on?