The It Gets Better Book
It Gets Better Gets a Book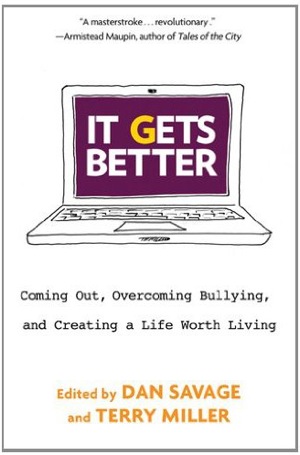 Last year, celebrities gay and straight alike lent their voices of support to the "It Gets Better" project. They, along with non-celebs, made videos telling lesbian, gay, bi, trans and other bullied youth that as dire as the present may feel, you will find joy in your future. Sex advice columnist Dan Savage and his husband Terry Miller started the movement after a string of gay youth suicides made the headlines. Gay teens are four-times more likely to attempt suicide and 9 in 10 are harassed at school.
Over 10,000 videos were submitted, and this week Dan and Terry released a book companion, It Gets Better: Coming Out, Overcoming Bullying and Creating a Life Worth Living. It features essays from celebrities — like Ellen DeGeneres, Tim Gunn, David Sedaris, and Suze Orman — politicians, religious leaders, as well as everyday parents, adults, or youth right out of high school.
The book sounds like a must read for anyone who was moved by the video project, as well as people of any age looking for more advice and understanding about overcoming bullying.