Gift Ideas For New Boyfriends
Give Your New Boyfriend Something He'd Actually Want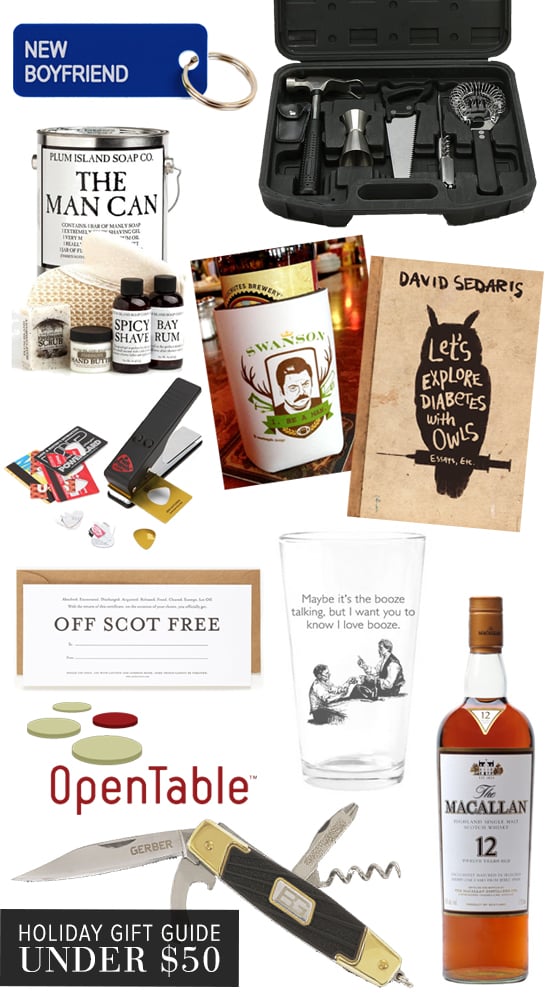 The new boyfriend — let's say less than a year — may be the hardest to buy for. What to get the man who has, well, you may not be sure yet. We've kept this list budget-friendly, around $50 or less, if all you're ready to say is "I'm in like with you."
A Ron Swanson beer coozie ($8), a cocktail tool box ($40), or a funny Someecards pint glass ($12) will please the party boy in any man. Take good times to the top shelf by buying his favorite liquor, like this Macallan Scotch ($45), which happens to be James Bond's drink of choice in Skyfall (although his was a bit pricier).
Have an experience together, whether it's making dinner reservations at a new or favorite restaurant, buying tickets to a live show, or reading a book together, like David Sedaris's latest Let's Explore Diabetes With Owls ($18, originally $27).
If you get stumped, consider what he needs but won't buy himself, like grooming products. Get him The Man Can ($48), a paint can filled will with Manly Soap, Very Masculine Bay Rum Oil, Extremely Spicy Shave Gel, Fisherman's Hand Butter, and a Scratchy Body Accessory. What about hobbies? If he's a musician, he'd surely appreciate a guitar pick punch ($25). And all men love knives, so this utilitarian pocket knife ($32) is sure to be a hit.
If all else fails, go with something humorous. This Off Scot Free Card ($10) is essentially priceless for a new boyfriend who might make a few faux pas at the beginning of the relationship. And he's sure to get a kick out this "new boyfriend" keytag ($15) that's made even better with keys to your apartment on it!