Ginni Thomas Leaves Anita Hill a Voice Mail
Mrs. Thomas's Unreal Voice Mail Puts Anita Hill in the News Again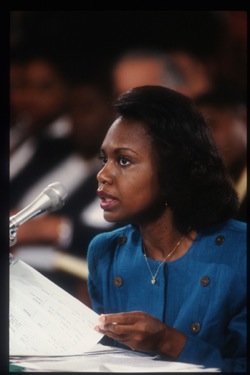 It's one thing to contact "the other woman" with hopes of getting some answers or closure when your partner cheats on you. It's a whole other thing to call a woman who accused your husband of sexual harassment almost 20 years ago and ask her for an apology.
Decades ago, Anita Hill privately filed her complaints about the future Supreme Court Justice Clarence Thomas, and it wasn't until those accusations were leaked and Hill was subpoenaed that she went public during the 1991 nomination hearings. Even so, Thomas's wife Ginni, who currently works as a Tea Party activist, left Hill a voice mail this month asking her to apologize. If you haven't seen the voice mail read around the world this morning, here it is:
"Good morning Anita Hill, it's Ginni Thomas. I just wanted to reach across the airwaves and the years and ask you to consider something. I would love you to consider an apology sometime and some full explanation of why you did what you did with my husband. So give it some thought. And certainly pray about this and hope that one day you will help us understand why you did what you did. OK, have a good day."
Convinced it's a prank? Ginni Thomas has confirmed the voice mail and says it was an "olive branch." An olive branch for publicity, maybe.