Girls TV Show Premiere
5 Dating Don'ts From the Girls Premiere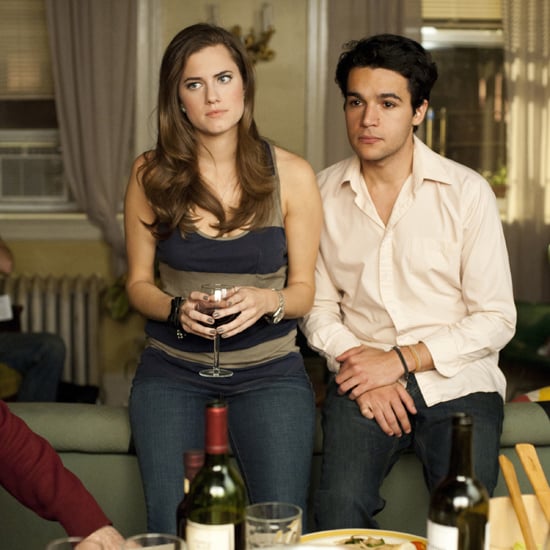 HBO's new show Girls premiered last night, and while we enjoyed seeing this modern, messier take on the Sex and the City formula — group of female friends deal with dating and relationship drama in New York City — sometimes the realities of the dating world can be a bit cringe-inducing (albeit relatable). In this inaugural episode we meet two main couples: Hannah (Lena Dunham) and the guy she's dating Adam, and Hannah's roommate Marnie (Allison Williams) and her boyfriend Charlie. Both pairs have some major issues that portray what not to do in a relationship. So here are some dating don'ts from last night's Girls:
Don't keep dating someone just because he's really into you. Marnie has completely fallen out of love with her boyfriend Charlie, so much so that the thought of him touching her grosses her out. But he absolutely adores her, and it seems like this is what prevents her from breaking up with him. When a relationship is this off-balance, you owe it to the guy to let him go and find someone who returns his affections. If the roles were reversed, wouldn't you want to be cut loose?
Don't be a guy's booty call if you want more. Hannah continues to go back to Adam even though the only time he contacts her is to get some. If this was a mutual friends-with-benefits relationship, that'd be one thing. But Hannah's clearly really into him, and it's not OK for her to be taken advantage of in this way. A guy that only uses you for sex isn't going to change and suddenly be boyfriend material, and you're worth way more than that.
Don't tell your loudmouth friends about your sex life. Charlie invites his friend Ray over for a group dinner night, and at one point Ray makes a comment in front of everyone that alludes to Charlie and Marnie's current dry spell. Choose the friends you open up to wisely; the last thing you want is you and your man's bedroom woes broadcasted in front of a group. It'll be embarrassing for you both, and your man is sure to be upset to find out that you're sharing all your personal moments with your girlfriends.
Don't lose all the mystery. The morning after sleeping over (and even worse, not in the same bed), Charlie lets Marnie put her retainer in his hand. They joke about it, but we can't help but think that kind of moment is a little too comfortable. Obviously, there comes a point in a relationship when you and your man know almost all each other's dirty secrets, but you'll keep some of the sexy spark if you don't put it all out there — and that includes handing your guy your saliva-filled retainer.
Don't sleep with a guy who refuses to wear a condom. Adam is just an all-around jerk, and he really seals the deal when Hannah asks him to wear a condom before sex but he doesn't. He even acts like he is going to put one on, and it's not until he's literally inside her that she realizes he didn't use one. The sad part is, she continues to have unsafe sex with him. A guy that doesn't respect your wishes to wear protection should be kicked to the curb, and preferably kicked in the balls. This kind of behavior is never acceptable, and is a huge, blaring, red flag.
If you watched the Girls premiere, share your thoughts on the show below.
Photo courtesy of HBO