Good Luck Having an "Austerity Wedding," Will and Kate
Good Luck Having an "Austerity Wedding," William and Kate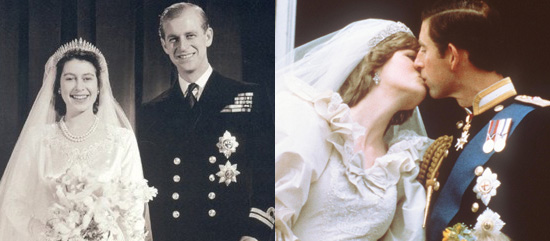 Prince William agrees with the 82 percent of TrèsSugar readers who say they'd rather have a small wedding than a large one. The future king plans to model his wedding after Grandma's, figuring that current times are more like the post-World War II era than the flashy 1980s when his parents were married.
When Queen Elizabeth married in 1947, World War II had just ended and the royal family wanted to send a message of solidarity with ordinary Britons. The then-Princess Elizabeth even paid for her dress with rationing coupons, and the press got a simple statement from the Archbishop of York announcing that she was "married this afternoon in some small country church" in a wedding that had "the essentials." There were 2,000 people in attendance, compared to the 3,500 guests and 600,000 people in the streets at Charles and Diana's wedding.
Sources say that William will do his best to send a message of restraint, and President Obama might not even be invited since William isn't even first in line. Obama will be OK — he's used to wedding guest list snubs after Chelsea Clinton left him off her list. But considering the global interest so far and how much security, people, and media attention William and Kate's wedding is sure to garner, it will be next to impossible for them to compete with Elizabeth's simplicity (maybe Kate could use a Groupon instead of rationing coupons to buy her dress?).
Of course, the "small country church" was Westminster Abby, the same place William and Kate plan to marry, so maybe austerity is just a matter of semantics.