The Gulabis, or Pink Gangs, in India
Indian Women Find Strength in Numbers — and Light Violence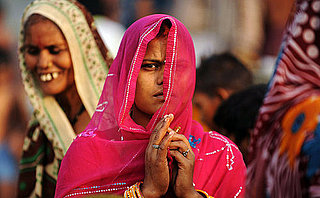 Women may be slowly getting more power and higher profiles in India, but not fast enough for the gulabis (pink) gang. The vigilante group doesn't always, or ever, have the softest touch, but it's creating change where the government could not.
A gulabis woman dons a hot-pink sari and occasionally carries a big stick, which she's not afraid to use. With 20,000 members in India's poorest region, it doesn't take long for a member to hear about a man beating his wife. She'll round up the gang (literally) and pay him visit. With large bamboo sticks in hand, they'll "persuade" him to change his mind. They have a very high success rate!
The group shuns political parties, believing they don't move fast enough, but has earned the establishment's respect nonetheless. With a reputation for lashing abusive husbands, beating a policeman in his own police station, and exposing political corruption that exploits the poor, the gulabis is finding fear to be powerful stuff.
"My real strength is not in the stick," Sampat Pal Devi, the movement's founder, told the Hindustan Times. "It is in numbers."