Guy-on-Guy Kissing Among Straight College Men
Guy-on-Guy Kissing: Is Homophobia Becoming Extinct?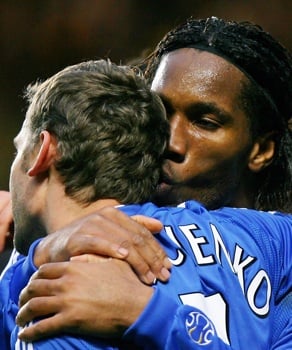 Seen any straight men smooching lately? Well, maybe you should hang out at British high schools and universities more often. A new study found men kissing on the lips is a new trend, nay a new norm, among young men.
I don't know if I'd call it normal, considering the study only surveyed 145 heterosexual male students. Of those, though, 89 percent said they've kissed a boy, and 37 percent liked it so much they engaged in "sustained kissing." Those who hadn't said guys kissing guys is no thang. In fact, one young man was so inspired that he texted a researcher later that night to say he was no longer a guy-kissing virgin.
Between girl-on-girl kissing becoming so overexposed that it makes us yawn and these findings, researchers now believe the end of homophobia is nigh. "These men have lost their homophobia," researcher Eric Anderson said. "They're no longer afraid to be thought gay by their behaviors, and they enjoy intimacy with their friends, just the same as women."
But whether it's a trend, a new sexual order, or just another study, the most fascinating aspect is the root cause of the guy-on-guy kiss. Find out where it began below.
Anderson believes it gained acceptability on the soccer field where players often kiss exuberantly after a goal or win. It then moved from the field to pubs and college campuses.
This all sounds very European to me, though, and right now it still is. But for how long? Researches also talked to American college soccer plays, and 20 percent had kissed another man. So maybe we're just a little behind Europe, like with small cars, high-speed trains, and man capris?
There is one important distinction to note, though: men do not consider kissing romantic, but like a more meaningful handshake. "I don't want to give the impression that it's like, 'Oh, I love you, mwah,'" Anderson said. "It's like, 'John! Rawr!' More exuberance."