Guy Plans Surprise Pinterest Wedding
Being Surprised With Your Own Wedding: Heartwarming or Hell No?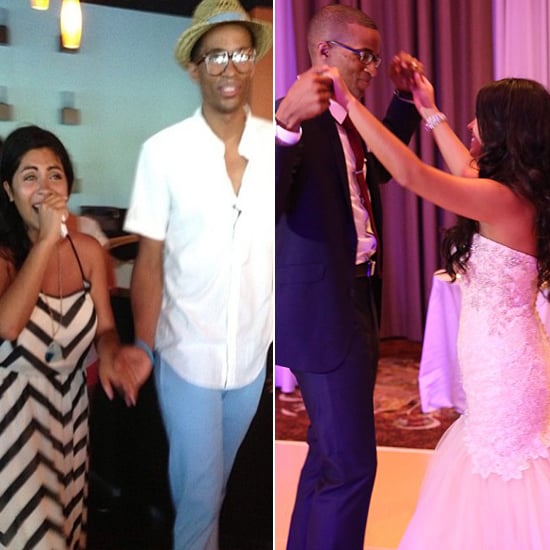 "Surprise! We're getting married today!" Can you just imagine hearing those words? That's what happened recently when Ryan Leak proposed to his girlfriend, Amanda, and then revealed they'd be getting hitched that very night in front of 90 close friends and family. And get this: he looked at her Pinterest boards for all the details (the cake! the playlist!) to give her her dream wedding. Ryan first got the entire idea after overhearing her say it would be a fairy tale to get engaged and married in the same day, and the guy planned for more than a year to make it happen.
It's not the first time someone has been dubbed the "best groom ever" for taking the wedding-planning reigns either. Back in 2011, a video went viral of a man named Shawn Lippert stealthily pulling off what he called Operation White Cake. He and his girlfriend, Colleen, had planned on eloping to Las Vegas, so he made sure to get all the details of what she wanted (like mason jars filled with candles and Martha Stewart lanterns) before giving her the biggest surprise of her life. One day, Colleen thought she was headed to a retirement party but was instead greeted at a restaurant by 200 friends and family ready to celebrate their love. Shawn even moved the entire contents of her bedroom — including furniture — to the restaurant to make it easier for her to get ready. Now that's love.
And then there's LeeAnn, who said to her fiancé, Doug, "Lets elope, or you can surprise me." Doug went for the challenge and surprised her with a hotel wedding instead of the Fiji elopement that LeeAnn was expecting. Not only was she given an invitation to be a guest at her own wedding the next day, but all of her friends and family were in on the secret as well.
There's something really sweet about having your partner want to do something that special, but it's still a pretty bold move. Think about it: throwing a wedding without the bride getting to pick out the dress with her mom or enjoy all the prewedding festivities would make some ladies cry for all the wrong reasons. Sure, it works for some people (luckily all three of these ladies loved the surprise), but what if isn't not what she really wants?
Let us know what you think by weighing in!