HPV Strains That Cause Cancer in Men and Women
Why HPV Is Suddenly a Man's Problem, and What That Means For Women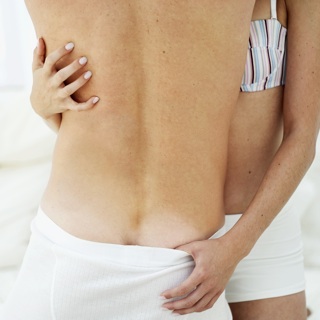 HPV is a tricky STD. It's largely been considered a woman's problem, because its most well-known effect is cervical cancer in women. But suddenly, HPV in men is making headlines not only for causing oral cancer but also anal, penile, head, and neck cancer.
Last week I told you not to freak out, because only a few strains cause cancer, but with another headline today — 50 percent of men have HPV — it's hard not to be concerned. The problem is HPV is so complex, it's hard to portray the true risk: its symptoms range from nothing to a wart on a foot to genital warts to deadly cancer. I am staunchly against nonspecific, fear-based sex ed, but I don't want to be unrealistic about an STD that has the potential to do harm.
So why suddenly has HPV become a man's problem? Science did not just discover it causes mouth, throat, anal, and penile cancer — the National Cancer Institute cites a 2002 study for that fact — but suddenly it's everywhere. Why the media blitz?
In December, Merck, the manufacturer of the HPV vaccine Gardasil, got the FDA's blessing to market the vaccine for the prevention of anal cancer. This opened up a huge market of men, particularly gay men (even though you don't have to have anal sex to get anal cancer through HPV). So, yes, there's a pharmaceutical company behind the media push, but that doesn't mean it's not worth taking seriously. Because, even though the FDA agrees with the drug manufacturer, US health officials have not recommended the vaccine for boys and young men. The result? Doctors aren't ordering it for boys and young men, and patients don't know to ask.
When the vaccine came out in 2007, there was some initial fear that it would give young women a false sense of security, but the truth is it helps prevent four troublesome strains. Find out which below.
Types 6 and 11: Both, individually, cause oral and genital warts, oral papillomas (benign tumors), and laryngeal papillomatosis (a rare but dangerous, potentially deadly throat infection).
Type 16: Causes oral, cervical, anal cancers — pretty much any type of genital cancer.
Type 18: Causes cervical and other vaginal cancers, like vulvar cancer.
Gardasil does not protect against several other strains, which can cause cervical, vulvar, penile, and anal intraepithelial neoplasia. Those are abnormal growths that are potentially premalignant, but often clear up with age — and probably why the American College of Obstetricians and Gynecologists changed its annual pap smear recommendation, which screens for cervical cancer and other abnormalities, from every year to every two or three years.
So Gardasil isn't perfect, but it's still helpful. The takeaway should not be a new era of terror over HPV, but that anyone who can get the vaccine — females between 11 and 26 and males between nine and 26 — should.