Halfway Hookers in Nightclubs
The Anatomy of a Nightclub, and the New Prostitution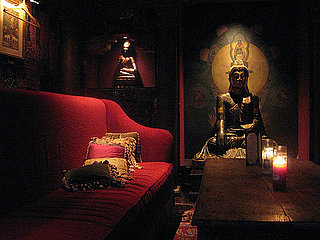 There's an in-depth article in New York magazine this week about how Rachel Uchitel — one of Tiger Woods's many women — was not a madam (technically) when she met Woods as a VIP host in a Las Vegas club. But it goes beyond Tiger's scandal and Rachel's newfound fame, and into the sort-of prostitution world of exclusive nightclubs.
I gleaned a basic outline of who's who in the nightclub world, and how all together they make the Cristal go 'round.
VIP host: Is like the madam of a night nightclub. She works out the complicated seating arrangements that the politics of status dictate. She sells tables, either quoting prices based on name and credit card type, or holding full-on auctions and awarding tables to the highest bidders. Her BlackBerry knows everything she doesn't about clients: birthdays, children's names, preferred drinks, and preferred women.
Promoters: Glorified pimps. They're hired by clubs on a freelance basis to bring people in. They usually specialize in a certain type, like hipster promoters or model promoters, etc.
The women: Women solicited by modeling agencies and hired by promoters. Some have successful careers outside the club, but most are still trying to make it. They are the ambiance and entertainment in a nightclub. After the client, they may be the biggest asset.
To see the rest,
.
Bottle girls: They are cocktail waitresses, but with better tips and more "responsibilities." They make at least $1,000 per night in tips, and can easily make $100,000 per year by working three nights per week. Like VIP hosts, they are expected to have clients, who they can text and ask to come by that night. The more a client spends, the bigger the fanfare (and by fanfare I do mean sparklers), which tells the women hired by the promoters who to sit by. One former bottle girl said she made more money than friends who were prostitutes without ever having sex with clients. But then again, she was also fired for slapping a man who slid his hand up her skirt.
The client: The reason VIP hosts, models, bottle girls, and promoters get out of bed every afternoon. Whether he's a celebrity, athlete, or i-banker, the whole elaborate show is for him. The bigger the name or wallet, the better the seat. And the best seats in the house usually have the best views. There the client can look out at the orchestrated masterpiece and choose which pretty girls he'd like to have a drink with.
The only thing separating the VIP hosts from madams; promoters from pimps; models from actresses; bottle girls from call girls; and clients from johns is how money is exchanged. The sex industry will ask for the money up front, but nightclubbers seek money through other avenues and accept gifts and favors. But Jason Itzler, founder of a high-profile escort agency, inventor of the "girlfriend experience" (GFE), and obvious visionary, believes the nightclub is where the future of prostitution is at.
"That's where trends in prostitution are headed," he says. "Guys go crazy for the GFE."
Source: Flickr User ethorson