Harold Ford's Wife Emily Ford
Emily Ford: From Celebrity Stylist to Politician's Wife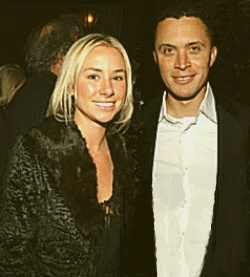 It's not a good time to be a politician's wife. I think of the beleaguered Elizabeth Edwards and Jenny Sanford before the influential Michelle Obama and hypersuccessful Hillary Clinton. What do I never think of? What it must be like to be 29 years old and the wife of a potential senate candidate.
Emily Ford is married to Harold Ford, who probably is going after New York senator Kristen Gillibrand's seat this year. She grew up in Florida and moved to New York with the dream of becoming a fashion designer but instead became a stylist to stars like Renée Zellwegger and Jada Pinkett Smith. Now she's becoming a celebrity herself as her husband uses her as an asset to campaign. "Everything is all coming so fast right now," she said. "There is this momentum. It's press, press, press."
But she's not worried! "I have no skeletons in my closet," she told the New York Times. Guess she'll never write a book!