Harry Potter Condoms
Harry Popper Condom Needs Magic to Get Out of Lawsuit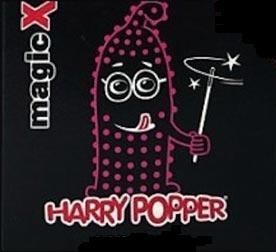 The Harry Potter franchise is worth $25 billion, so you might think copyright owners Warner Brothers have found a way to plaster the brand on everything. Yet the franchise has failed to cover one body part that an unaffiliated manufacturer has. I'm talking "Harry Popper" condoms.
Warner Brothers is suing the Swiss condom manufacturer that says the wand-wielding cartoon condom on the wrapper has "nothing to do with Harry Potter." Warner Brothers says the design threatens its boy wizard's image. I'm guessing Daniel Radcliffe's decision to bare all on stage a while back raised a few corporate eyebrows, too.
If the makers of Harry Popper condoms lose the suit, at least they'll have to come up with a new name that doesn't suggest the condoms will . . . pop.