Hate Dating
Love to Hate? Hate Dating Speeds Up Romance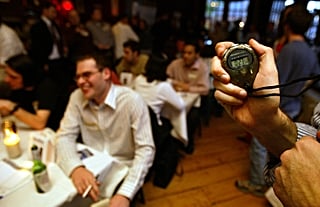 When I am nervous or stumped on what to say next, I sometimes start to complain. My theory is complaining is easy, so it's a comfortable conversational default. Thankfully, I'm not alone. Hate dating is a new type of speed dating rushing through London, requiring you to bring nothing but a frown and your pet peeves and a willingness to discuss them with a potential partner.
Talking about your job and your interests is pretty dull if you're not scratching the dirt of it all. Hate dating drops the pretense and sends two strangers into a lively debate, immediate hatred, or mutual malcontent.
One dater calls it a quick test for compatibility (you see how you fight together), but the hate-dating pioneers behind Down With Dating see it as nothing more than an icebreaker. And if my nervous-tick complaining is as common as I suspect, it just might work.
Would you love to hate date, or would you rather date nice?