Healthcare Reform Is a BFD T-Shirt
Health Reform Is a BFD T-Shirt — Love it or Leave it?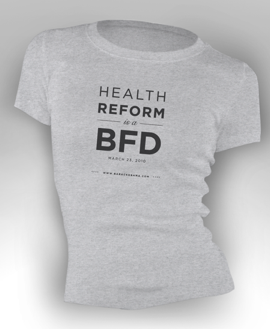 I cringed (then chuckled) last week when Vice President Joe Biden told his boss — and the world — that healthcare reform is "big f*cking deal." I thought, OMG, after all these years as a politician doesn't Joe Biden realize there's such a thing as a hot mic at a major press conference? Well, the President wants me to chill out. Apparently health reform is a big f*cking deal.
To celebrate, BarackObama.com slapped the (abbreviated) slogan on a t-shirt and is selling it for 25 bucks. The product description for the super-soft, union-printed, made-in-the-USA t-shirt explains: "There are things that are a big deal — birthdays, anniversaries, the NCAA Championship game. And then there are things that are a BFD, like delivering health insurance to 32 million Americans." No, this is not an April Fool's joke . . . as far as I can tell.