Help For Husband Bracelets by Karl Dorn Track Women's Periods, Incorrectly
Period-Tracking Bracelet Gets Time of the Month Wrong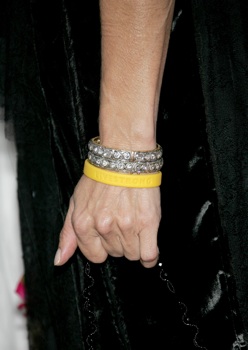 This is what happens when people have too much money! A British millionaire is offering £100,000 (about $162,000) to the person with his favorite money-winning idea. Despite 160 entries, somehow Karl Dorn has made it to the top 10 with Help For Husbands, a Livestrong-like bracelet meets mood ring that changes color to warn men when to stay away.
"Through my research I've found out that women's body temperatures increase at certain times of the month," Karl said. "This little wristband would be temperature sensitive and change color." He seems to think "certain times of the month" are PMS, when women are supposedly extra emotional, but it's actually when women ovulate. You know when we dress extra sexy and want sex the most? And why shame a woman with a scarlet bracelet when there are apps and websites for tracking periods.
So if this wasn't senseless enough, the best part is this "invention" is anything but novel. A company in Norway makes women wear red bracelets when they have their periods, which we found absurd enough to make the headline a top question on a Real or Fake quiz. At least they're using the bracelets at the right time of the month.