Herman Cain Sex Scandal
Why a Sex Scandal Might Help Herman Cain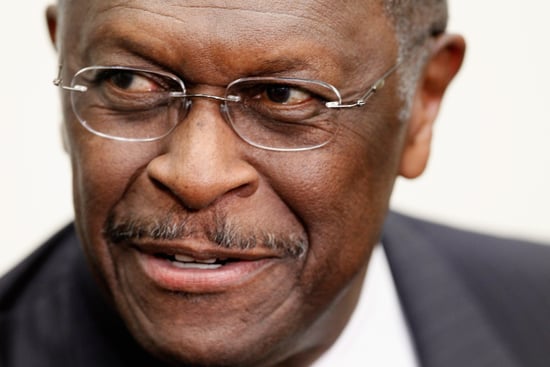 When his years-old sexual harassment complaints surfaced, Republican presidential candidate Herman Cain's fundraising donations grew. Yep, you read that correctly. While sex scandals meant political doom for politicians such as Dominique Strauss-Kahn, Anthony Weiner, and Eliot Spitzer (not that some aren't able to bounce back, eventually), for some reason murmurings of sexual harassment charges and coverups caused people to be more supportive of Herman, not less. According to his campaign manager, the day Herman faced questioning about his past misconduct the donations were double his normal daily average.
The accusations coming back to haunt (or help) Herman have to do with two women who complained of his personal conduct in the '90s when he was head of the National Restaurant Association. He said they came to an "agreement" with the women, not a "settlement," but basically they were paid to stay quiet.
I don't know how more people could want to support Herman after hearing about his possible sexual harassment past, but I could see how his supporters who choose to stand by him amidst the scandal would boost his funding to fight back. Because even though these kinds of scandals seem like a clear abuse of power in my mind, there are still some who dismiss sexual misbehavior as personal and private. What do you think about all this? If a politician you supported found himself knee-deep in a sex scandal, would you continue to root for him?