Highlight From The Real Housewives of New Jersey June 7
Do You Call Out People When They Use Slurs?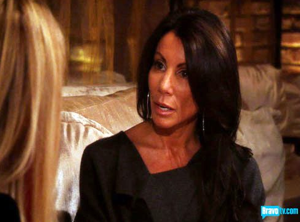 Last night on The Real Housewives of New Jersey, otherwise out-of-touch characters had a relatively relatable moment. When outcast Danielle failed to rebuke her friend for using the slur "faggot," the rest of the housewives became very upset. The level of outrage was especially high, considering last season Danielle took issue with Teresa's husband's use of the term "gaylord," but now seemed to give derogatory language a pass.
I'm pretty sure the housewives care more about having an excuse to hate Danielle than gay slurs, but it does present a common dilemma: when you hear someone use language that offends you, do you speak up?
Photo courtesy of Bravo