Hillary Clinton's Benghazi Testimony
Sexism Strikes Again After Hillary Clinton's Congressional Testimony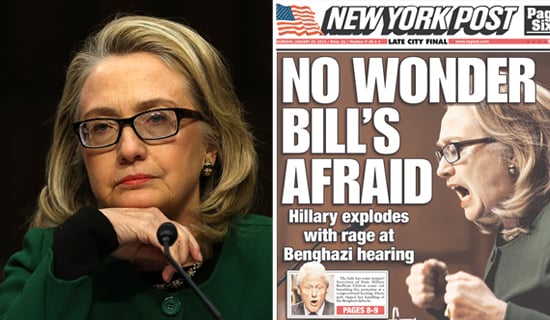 With a staggering 69 percent approval rating, outgoing Secretary of State Hillary Clinton is one of the most popular public figures in America, but if the reaction to her Senate testimony this week is any indication, she still has her critics. And unfortunately, when she asserted herself yesterday against those critics, she was met with sexist media coverage.
The former first lady and current top US diplomat went to Capitol Hill to answer questions from her former Senate colleagues about last year's terrorist attacks in Libya, which left four Americans, including an ambassador, dead. Hillary took responsibility for the attacks during the sometimes-heated hearing, but also defended her State Department. When Republican Sen. Ron Johnson asked Hillary why the Obama administration initially told the public the attack was a result of a spontaneous protest, which is was not, Hillary became angry: "The fact is we had four dead Americans. Was it because of a protest, or was it because of guys out for a walk one night who decided they'd go kill some Americans? What difference, at this point, does it make?"
While there can be a difference of opinions about what Hillary Clinton said yesterday, the reactions to how she said it reveal that female political figures are treated differently by some in the media. For example, the New York Post's cover this morning depicted Hillary as an aggressive shrew, with the screaming headline: "No Wonder Bill's Afraid." I doubt a man would be judged the same way for an impassioned professional testimony, nor that a connection would be made to his personal life. For its part, Fox News painted the Secretary of State as a middle-school girl who, like, totally doesn't get foreign affairs. A graphic that aired on Fox News "summarized" Hillary's answers as "Hey, guys — this stuff is hard." "And confusing!" "But I take full responsibility." "Later!"
Hillary Clinton says she has no plans to run for the White House in 2016, and when you see coverage like this, you can't blame her. But perhaps a woman breaking the ultimate glass ceiling and becoming president would help change the too-often sexists perceptions of strong women. Thankfully Hillary Clinton has already made positive contributions for women, although we obviously have a ways to go. You can see Fox New's graphic below.