Hillary Clinton Biopic
4 Titillating Tidbits About Hillary Clinton Biopic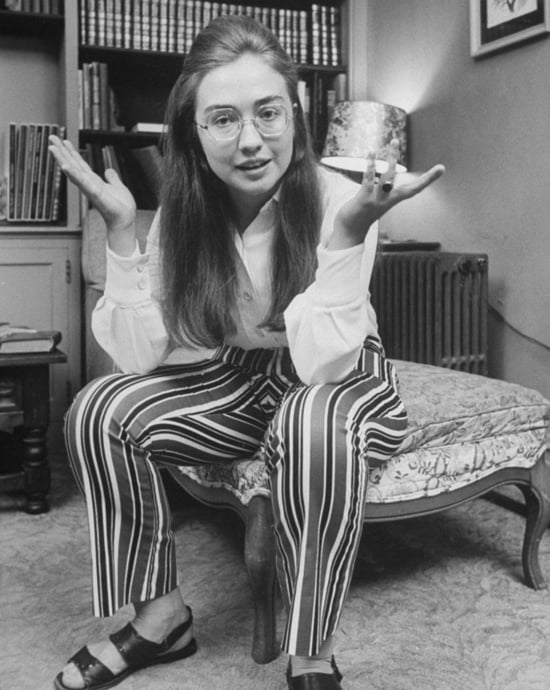 Raise your hand if you'd watch a movie following a 20-something Hillary Rodham while she's deciding between her political career and her boyfriend, Bill Clinton. Yeah, that's what we thought. Where can we buy tickets? Well, we're getting a little ahead of ourselves here, but a Hillary Clinton biopic screenplay has Hollywood all atwitter, and we don't blame them. Titled Rodham, it was No. 4 on Tinseltown's coveted "Black List" (a list of film execs' favorite scripts), but as of yet it only has a production company — Twilight's Temple Hill Entertainment — and a director, James Ponsoldt.
Thanks to Hillary's autobiography Living History, we got a glimpse into her past, and we're going to find out even more about her tenure as secretary of state in her next memoir, out in 2014. Now we'd love to see the life of the possible 2016 presidential candidate played out on the big screen. The script was written by a 39-year-old writer from South Korea, Young Il Kim, and he had us intrigued at "there's a scene with Hillary and Bill making out." Even more hot and heavy details have recently emerged, as The Daily Beast has obtained a copy of what may be the final screenplay. Find out more about the screenplay now, and tell us: who could you see playing a young, lovestruck Hillary?
Impeachment Irony
The story follows Hillary as she's struggling to find the balance between work and romance. Ironically, her job at the time — as the youngest attorney on the House Judiciary Committee — was working to impeach President Richard Nixon, while her boyfriend was rising political hopeful Bill. This same impeachment process would be used against Bill during the Monica Lewinsky scandal.
Office Romance
Hillary gets flirtatious with her impeachment committee co-worker, former Governor (and Republican) William Weld, in the script. She describes him as looking like Ryan O'Neal in Love Story, and there's a scene in which they "draw closer for that inevitable kiss" just to be interrupted by a call from Bill.
Steamy Scene
Since Hillary and Bill were in a long-distance relationship during those courtship days — Bill was trying to get his political career started in Arkansas, while Hillary had her own high-stakes career in Washington DC — they made their time together count. Il Kim spilled that there's a scene where they hook up in her Dupont Circle apartment. According to the script, they "devour each other" in a makeout scene that includes Hillary getting pressed against the wall and Bill tearing off her top before he "buries his head into her cleavage." There's also a scene in which Hillary tells Bill, "I f*ckin' love you. I mean that. I love you and I want to f*ck you."
Sexy Songs
The writer dishes that there's a scene in which Hillary puts on makeup while singing Carly Simon's "You're So Vain." Bill also gets in on the musical numbers, wooing Hillary by playing "Happy Birthday" and "Hail to the Chief" on the saxophone.