Hillary Clinton Effect
Hillary May Not Empower All, but She's No Poster Woman For Nepotism
Powerful women are supposed to be good for females, especially girls. Held up as shiny beacons of possibility, they're an antidote to the women-can't-be-powerful stereotype. But not all high-profile women elicit empowerment. As soon as a hint of nepotism or a dash of luck is sniffed out, their ability to inspire is extinguished. So for the role-model effect to work, the woman's success must be perceived as earned through innate ability and effort.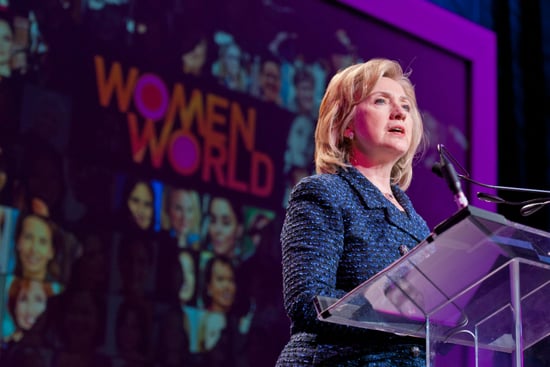 This inspiration fail has been dubbed the "Hillary Clinton effect," and even that is tinged with unfairness. Researchers behind the study's finding — and coiners of the term — at Texas Christian University admit Hillary is a divided role model: some perceive her stature as unearned, a torch passed down by her president husband, while others see her as determined and unwavering, no stranger to the grit of hard work.
I'd say Hillary's a bit of both. See why below.
As we saw in the 2008 election, she's not immune to defeat, but naysayers insist she wouldn't have been there if it weren't for Bill Clinton. And that may be — probably is — true, but there's something about Hillary that's so vigorously tenacious that I can't believe she wouldn't be in the upper echelons of American politics even if she had never married Bill. It could even be argued that leaving him after his Oval Office shenanigans could have really jump-started her career. Then again, it could also be argued that it would have destroyed it.
So while I'm happy to see that favoritism does not escape the public eye, I'm sure researchers at Texas Christian University could find someone more deserving (or undeserving) of the Hillary Clinton effect. I'm taking suggestions below!