Hillary Clinton Gay Rights Speech
Moving Lines From Hillary Clinton's Gay Rights Speech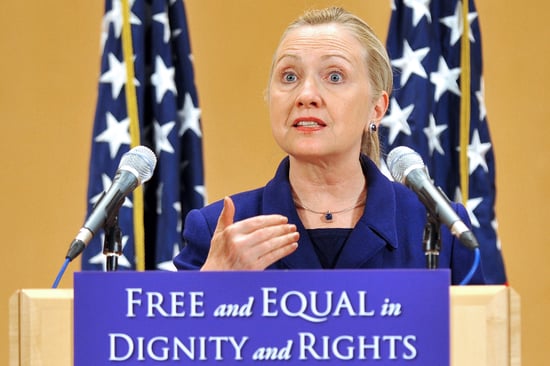 Speaking before the United Nations Human Rights Council in Geneva, Secretary of State Hillary Clinton took up the issue of gay rights. After reviewing the adoption of the 1948 Universal Declaration of Human Rights and the hard-fought victories achieved since for racial and religious minorities as well as women, Hillary said, "Today, I want to talk about the work we have left to do to protect one group of people whose human rights are still denied in too many parts of the world today." Here are some of the best lines from her speech, which some have called the "I Have a Dream" moment for the global LGBT community.
It starts at home: "Until 2003, it was still a crime in parts of our country. Many LGBT Americans have endured violence and harassment in their own lives, and for some, including many young people, bullying and exclusion are daily experiences.  So we, like all nations, have more work to do to protect human rights at home."
LGBT rights are human rights: "Like being a woman, like being a racial, religious, tribal, or ethnic minority, being LGBT does not make you less human.  And that is why gay rights are human rights, and human rights are gay rights."
LGBT people are members of the global community: "In reality, gay people are born into and belong to every society in the world. They are all ages, all races, all faiths; they are doctors and teachers, farmers and bankers, soldiers and athletes; and whether we know it, or whether we acknowledge it, they are our family, our friends, and our neighbors."
Religion is not an excuse: "Perhaps most challenging, issue arises when people cite religious or cultural values as a reason to violate or not to protect the human rights of LGBT citizens. This is not unlike the justification offered for violent practices towards women like honor killings, widow burning, or female genital mutilation." 
Read more of the best lines and watch the video of the speech in its entirety below.
Get the facts straight: "Now, there are some who say and believe that all gay people are pedophiles, that homosexuality is a disease that can be caught or cured, or that gays recruit others to become gay. Well, these notions are simply not true. They are also unlikely to disappear if those who promote or accept them are dismissed out of hand rather than invited to share their fears and concerns. No one has ever abandoned a belief because he was forced to do so."
We must have empathy: "Progress comes from being willing to walk a mile in someone else's shoes. We need to ask ourselves, 'How would it feel if it were a crime to love the person I love? How would it feel to be discriminated against for something about myself that I cannot change?'" 
We must act: "So when any part of humanity is sidelined, the rest of us cannot sit on the sideline."
The LGBT community is not alone: "To LGBT men and women worldwide, let me say this:  Wherever you live and whatever the circumstances of your life, whether you are connected to a network of support or feel isolated and vulnerable, please know that you are not alone."