Hillary Clinton Vice President
Do You Think President Obama Should Pick Hillary Clinton as VP?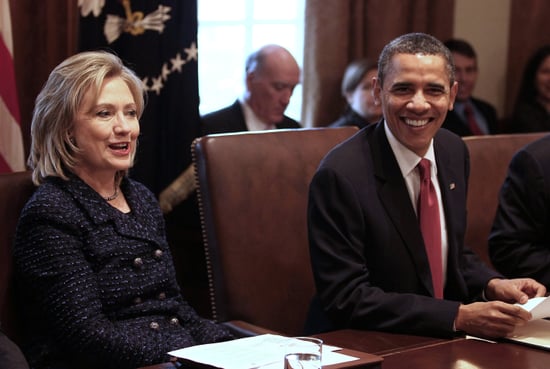 Update: The White House says President Obama is sticking with Joe Biden.
President Obama is meeting with Vice President Biden and Hillary Clinton this morning, and rumor has it he might ask Hillary to be his vice presidential running mate. There are reports that Joe Biden may have health issues that would keep him from serving as Obama's number two. It wouldn't be the first time in American history a sitting president has ran with a different vice president the second time around; Thomas Jefferson, Abraham Lincoln, Ulysses S. Grant, and Franklin Roosevelt all did so with success.
As secretary of state, Hillary Clinton has enjoyed popularity numbers much higher than the president. In fact, earlier this year her favorability reached a 20-year high. Adding a woman to the ticket could go over well with the crucial female voting demographic come November. It would also allow the Obama campaign to avoid more controversial gaffes from the current vice president, who got in hot water this week for saying the GOP wanted to put people "back in chains." Still, switching things up at this point might make Obama appear desperate — like he needs to do something drastic to win the reelection. And we know that didn't go over well for John McCain in 2008. So we want you to weigh in. Do you think it would be a smart move?