History of Naked Sushi or Nyotaimori
A Brief History of Naked Sushi
The best known sushi plate may be Samantha Jones from Sex and the City, but the practice goes way back in Japan, having its own name nyotaimori (female plates) and nantaimori (male plates). Even so, it is not commonplace or even socially acceptable, happening mostly in sex clubs and at gatherings for organized criminals.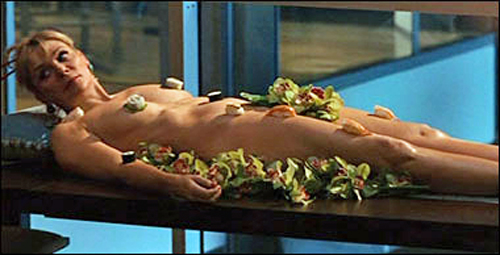 Today photos of human sushi platters are floating around, bringing the age-old tradition front and center. Besides the obvious eroticism, why would anyone want to eat off a naked human. Find out below.
Proponents claim the body warms the cold fish, so diners can better focus on its taste and texture. Traditionally, women were trained to lie still for hours and not squirm at prodding chopsticks and cold splashes of soy sauce, but a Guardian reporter said that a pop-up nyotaimori restaurant in London hired its "human plate" from temp agency. Its main job requirement? Small breasts. Here's how she described the scene.
"Our human plate was olive skinned, with (as far as I could gather) no body hair and naked except for a few strategically placed banana leaves and rose petals. Her eyes were shut. If it was not for the fact you could see her breathing — and the odd flutter of her eyelid — she could indeed have been a body in a ­mortuary. There was nothing remotely erotic about the sight."
Dessert, anyone?