The History of the Vibrator
Victorian-Era Doctors Gave Patients a Prescription For Pleasure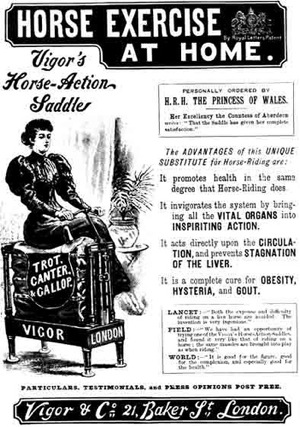 Hysteria, the upcoming Victorian-era rom-com staring Maggie Gyllenhaal, Hugh Dancy, and Rupert Everett, takes on the creation of the first vibrator. The trailer is out today, and it look likes Hugh Dancy, who plays the inventor-doctor, doesn't hold back in his pursuit of female pleasure.
By failing to acknowledge women as sexual, our prudish Victorian-era ancestors took part in something we would find shocking today: doctors essentially having sex with their patients. The medical community considered female sexual arousal a disorder that needed treatment. Symptoms of so-called "female hysteria" included anxiety, sexual fantasies, pelvic heaviness, and vaginal lubrication. They had the same remedy for such symptoms as we do today, an orgasm, but back then physicians administered them.
Doctors would rub a "hysterical" woman's vulva until she experienced dramatic relief through "paroxysm," aka orgasm. After treating various hysterical women, a doctor's hands and wrists would get tired. So in 1870, one doctor created a steam-powered machine that would administer orgasms and become the ancestor of today's vibrators. Soon even the Princess of Wales would order "Horse-Action Saddles" (seen in this ad) proven to treat hysteria.
Watch the Hysteria trailer below.