History of Weight Watchers
The Rise of Weight Watchers in the 1960s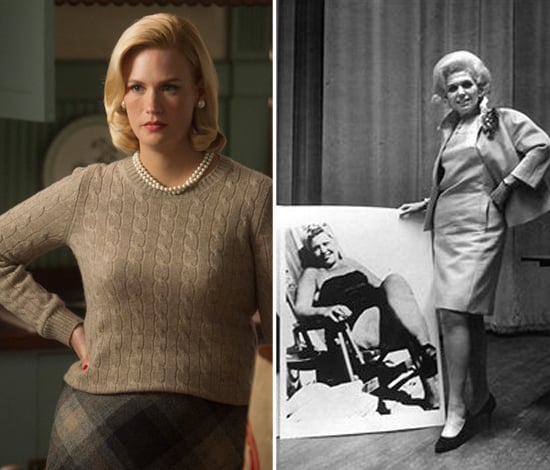 This week on Mad Men's "Dark Shadows" episode, Weight Watchers serves as a type of therapy for Betty Francis, who can definitely use it. Boredom, jealousy, and insecurity dominate Betty's life as a 1960s housewife on her second marriage, and she's turned to bags of Bugles to pass the time. Now determined to lose the weight, the former model turns to a new diet plan gaining popularity with women like her, Weight Watchers. Considering Betty's mother-in-law already tried to push diet pills on her, which contained amphetamines at the time, the group meetings are the responsible approach to weight loss for Betty Francis.
If you think Weight Watchers was a phenomenon of the '80s or remember Duchess Sara Ferguson as its spokeswoman in the '90s, you may have been surprised to see Betty attending meetings way back in the '60s. Jean Nidetch, the founder of Weight Watchers, got the idea for the weight-loss method after struggling herself to lose and keep off weight with diets and pills. Jean, who had weighed as much as 214 pounds, lost 20 with a diet prescribed by the New York City Board of Health, but couldn't keep it off. So in 1961, she decided to hold meetings with other women facing the same issues with weight at her home in Queens, NY. By Oct. 1962, she had lost 72 pounds.
Thanks to her success, Jean's meetings took off, and she went from having them every week to multiple times a day. She soon recruited other group leaders, like the one we saw running Betty Francis's meetings, who had previously lost weight with the program and continued to keep it off. In 1963, Jean and her husband Marty incorporated the business, and by 1965, they exported the franchises to Canada, Puerto Rico, Great Britain, and Israel, with 102 in total. Changes would come in the '70s, with a psychologist coming on and exercise being introduced, and in 1978 the company was purchased for $100 million by another brand featured this season on Mad Men: H.J. Heinz.
In 2010, Weight Watcher's founder published her autobiography, The Jean Nidetch Story: An Autobiography, which came after her 1972 book The Story of Weight Watchers. The autobiography is described as the story of Jean's "personal struggles, rags-to-riches rise, and sunny, can-do attitude." If only Betty had a hint of a sunny disposition. Instead, her all-consuming jealousy is casting dark shadows.