Homophobic Brazilian Liquor Ad
Brazilian Ad Suggests Alcoholism to Cope With a Gay Child
If this ad has anything going for it, it's that its message is a little hard to grasp at first glance. But once you get past the convoluted floor plan and into the meaning, it's all downhill. My reaction went something like this: "OK, your son is watching Brokeback Mountain with a friend. The drink is strong so you can be . . . oh! Oh. Ugh."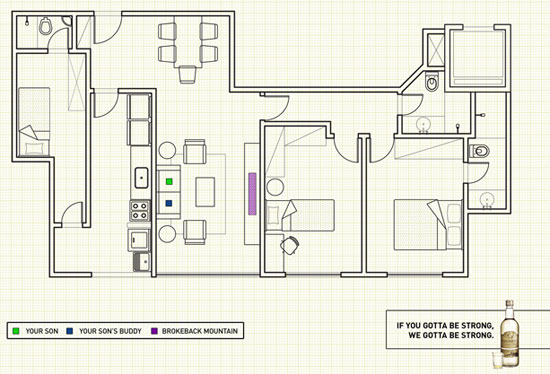 Everything is open to interpretation, of course, but I don't think there's any other message to take away from this ad: "Think your son may be gay? Time for a strong drink." Unless maybe the son is supposed to be drinking in order to cope with his homophobic parents; that I might be able to get behind. The brand has a couple other, much more innocuous takes on the concept that manage to be funny without being bigoted — why not stick with those?
What do you make of this ad? Would it fly in the US?