Homosexual Sex Banned at 2022 World Cup
How Will Soccer Players Kissing Go Over at Qatar's World Cup?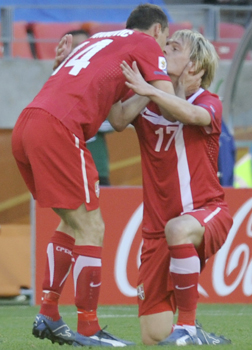 After this Summer's World Cup, soccer players were credited with the trend of guy-on-guy kissing among American college students, so it's safe to say they're not the most homophobic group of athletes in the world. While a kiss of victory is far from gay sex, it's not exactly perceived as the opposite either.
Now the 2022 World Cup is set to be held in Qatar, a Muslim-dominated nation where homosexual sex is illegal and punishable by fines and up-to-five-year prison sentences. I'd say this sounds like no bigger deal than usual, because homosexual sex is illegal in lots of countries (it was in some US states until 2003). But then the president of the International Federation of Association Football (FIFA) opened his mouth. His solution? Just don't have homosexual sex during the month-long World Cup.
Whatever the case, people will find a way to have sex, gay or straight, during the 2022 World Cup the way they always have — in private. Because all this really means is "don't have sex in public," and that's not really a terrible rule of thumb for anyone! As for kissing soccer players? Well, given how men in the Middle East kiss out of friendship, I suspect only Americans will think it's odd.