How to Answer When Are You Getting Married
Family Matters: 6 Comebacks For the Marriage Question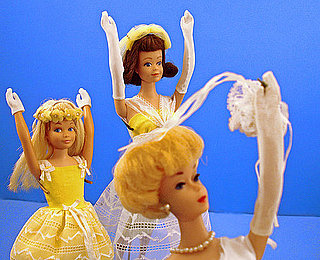 At a wedding last year, my aunt asked me the dreaded question: When are you getting married? As she looked at me, I could tell she was full of seriousness, worry, and wine. I leaned back in my chair and whispered so nobody could hear "I already am."
I, of course, wasn't. But it seems any woman over 25 confronts this question at family gatherings. And it only gets worse if you're happily attached. In which case, things can get really awkward if your unintended is nearby.
Honestly, a polite answer to this fairly rude question is not easy! So here are five tongue-in-cheek comebacks and one polite one for the nosy wedding planners in your life.
When his divorce is final.
Well, we have pictures that seem to say we are but no papers.
Hopefully, before I start showing!
When gay marriage is legal here.
When are you getting divorced?
If you're going to be polite, get the best advice I have after the jump.
Shrug, and say "Not sure. How old were you when you got married?" Turn it around, and make it about them. Ask them how they knew it, how the proposal happened, and how long the engagement lasted. They should be so caught up in talking about themselves that they will totally forget the original question. If that fails then see above.
Any other (better) suggestions?
If you are planning a wedding, already happily wed, or still looking for Mr. Right, start sharing your big day with our community. Don't forget to check the wedding content box on your post.
Source: Flickr User Tinker*Tailor