How to Avoid a Relationship Sex Slump
"I'm Tired" Is No Excuse: Avoiding Relationship Sex Slumps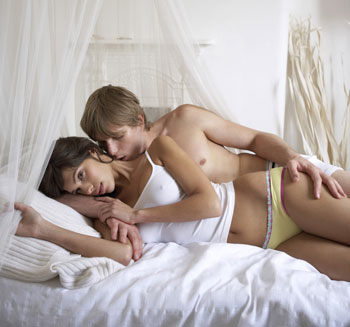 Let's face it: between working late, working out, hanging out, and finding time to grocery shop, cook dinner, and do laundry, we're often bushed by the end of the day, and sex is the last thing on our minds.
But if you're in a long-term relationship, uttering "I'm tired" too often is a slippery slope to a sex slump. Next thing you know, you haven't had sex in a week, and you're probably still not well rested. Here are six strategies to get you and your partner to ditch the "I'm tired" excuse once and for all.
Hit the sheets before you hit the sack. This may seem obvious, but if you and/or your partner is having trouble getting to bed at a reasonable hour, make a joint resolution to go to bed sooner. The sooner you get to bed, the more time you have for sex and sleep.
Embrace the morning quickie. If it's hard to get in the mood at the end of a long day, wait for the start of a new one. You can even make a pact with your partner before drifting off to sleep that you'll get it on when you wake up.
Mix up your routine. A great relationship is based on open-hearted spontaneity, so if your routine is getting in the way of romance, ditch it. Instead of waiting for bedtime, have sex when you get home from work or skip your usual TV time (DVR Lost, if you must) and get busy on the couch.
For three more ideas, read more.
Let something go. If the two of you are having a busy week that's leaving you too tired for sex, then give yourselves a break. Skip the gym one night or grab takeout instead of making dinner, and tell your partner you'd rather get busy instead.
Set a limit. Sometimes you might be too tired, it's true. But pay attention to how often you and your partner trade "I'm tireds." Decide how many you'll allow before employing one of the strategies listed above.
Just say "screw it" — and screw. Sleep is important, but so is sex. Sometimes, it's worth it just to suck it up, admit you're not going to get enough sleep, and have sex anyway. Your relationship will thank you for it.
Got your own tips for balancing sex and sleep? Share them below.