How the Birth Control Pill Shaped the History of Casual Sex
You vs. Your Mom: Who Had More Casual Sex?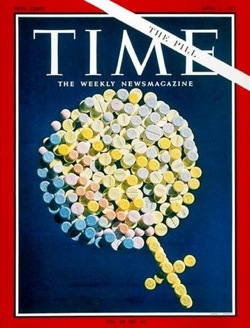 Are we having more sex than our moms? Well, if your mom was sexually active before the 1960s, maybe. After that, the birth control pill arrived, and women no longer had to pray and men no longer had to pull.
Writing in the London Times this weekend, five women of different generations open up about their sex lives. One woman, who turned 16 in 1960, explains how the sexual environment was very different than today's — abortion was illegal, women were expected to get a ring on their fingers before they had sex, and young women at her college actually shared one generous student's diaphragm. But once the pill came on the scene, everything changed. Women no longer risked unwanted pregnancy and the associated stigma.
Women enjoyed more sex during the post-pill era, but the mood of the sexual revolution didn't last long. Presumably once off the pill, the women of the '60s began to have children who would have the advantage of oral contraceptives, but also the fear of AIDS to shape their sexual experiences. After AIDS, a younger writer explains, women carried their own condoms, and sex in a monogamous relationship seemed less risky than sleeping around.
So the sexual practices of different generations have been shaped by liberation (the pill) and fear (AIDS and other STDs) — guess what we're left with is protected casual sex. Good thing condoms have been around for thousands of years.