How Can I Help My Single Friend?
Ask a Yogi: How Can I Help My Single Friend?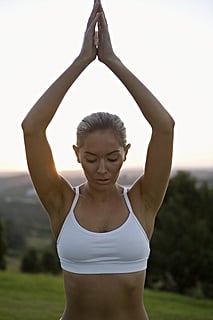 Conventional Wisdom is a different kind of advice column. Your questions will be answered by people from all walks of life rather than by advice experts. This week, an expert in yoga tries to help out a concerned friend. If you have a question you'd like answered on Conventional Wisdom, you can submit it here.
Today's Question:
"One of my good friends has never really had a serious boyfriend. Lately she's been so down about it that she's making excuses not to hang out with me and my friends who do happen to be in relationships. Obviously when we're together we try to talk about more than our boyfriends or husbands, but I can understand her sensitivity. Any advice on how I can make her feel hopeful about her love-life situation and make her excited to hang out with her old friends?"
To see the yogi's answer,
.
You sound like a really good friend and can definitely have some impact on single Sally, who is feeling a little left out of all the fun. Can't say I blame her, as nobody wants to be on the sidelines when hearing or watching all the activity on the field.
Change the setting a bit — meaning, instead of having a sit-down dinner among all girlfriends who are married or paired off, plan an activity where you both will be engaged! Suggest a bowling night, tennis match, training for a race, performance, etc. where the attention will be more on what you are doing than on who is dating who.
Also, if you really want to be there for your friend and help her achieve her personal goals, you can help her put together an online dating profile, make some introductions to potential mates, or accompany her as an experienced wingwoman to an event. Once your friend starts getting more exposure to the dating scene and her confidence picks up, suggest a girls date where you act as her dating stylist and accompany her on a shopping spree and partake in some beautifying services. That is bound to be a win-win situation for both of you.