How Chelsea Handler Became Famous
Where Did Chelsea Handler Come From?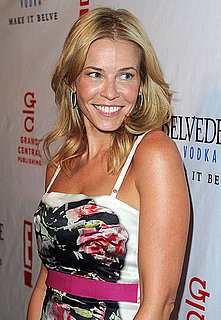 In somewhat of a puff piece, the Sunday's New York Times asks what makes the delightfully offensive Chelsea Handler resonate with women and men? With a late-night show on E!, Chelsea Lately, that has a rabid though modest viewership of 900,000 per night and three best-selling books, she's obviously doing something right.
It's easy to attribute her success to being a woman in the male-dominated world of late-night TV, but Robert Morton, a former producer of Late Night With David Letterman, floats another, less patronizing, theory. "Chelsea represents what the culture demands of a successful talk-show host: you have to bare it all," he says. "You know about her friends, you know about her sex life."
I believe that's what people under 35 call "oversharing." And while she probably is sharing just the right amount of too much for today's milieu, we know oversharing alone doesn't get anyone very far for very long. Maybe she's just funny and found an opportunity (the president of Comcast Entertainment, who later became her boyfriend, saw her on Girls Behaving Badly and told his staff to bring her to him), took it, and did something with it.
Her schedule is now so full with putting on a daily show, talking to the press (check out our Chelsea Handler interview), going on comedy and book tours, and — somewhere in there — writing those books that the question is shifting from "how is she successful?" to "how could she not be?"