How Did Elena Kagan's Sexuality Go From Rumor to Issue?
How Did Elena Kagan's Sexuality Go From Rumor to Issue?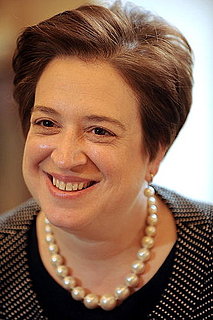 Yesterday a photo of Supreme Court nominee Elena Kagan playing softball at age 17 in the Wall Street Journal set the Internet aflame. Was it an insinuation that Kagan is a lesbian, or just an excuse to use the "come to the plate" pun? The Gay and Lesbian Alliance Against Defamation (GLAAD) immediately lashed out the Journal, claiming it was an implicit allusion to Kagan being gay.
The rumor that Kagan is a closeted lesbian has been everywhere since President Obama nominated her Monday morning. Where did it come from? Let's start with bloggers, but it was CBS who pulled the rumor out of the bloggy slush pile and gave it wings in the mainstream media. It published a blog post by conservative blogger Ben Domenech, who's resigned at least once for plagiarism that said Kagan would be the "first openly gay justice." CBS insisted the post stay after initial rumblings, but ultimately removed it.
Now we know how the story became so big, but what evidence is there? Lots of opinions. Here are three reasons that the rumor has become larger than fact below.
So while most people agree it doesn't matter if she's gay nor is it our business, it will matter as long as we talk about it. Which is why, I am going to stop.