How to Draft a Date at a Super Bowl Party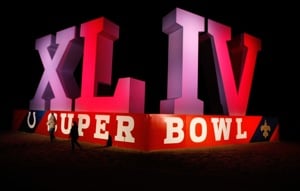 Some of the best potential partners are friends of friends, so when you need a break from meeting random people online or at a bar, it's always smart to tap into your extended social network. These single friends-of-friends might just turn up at a Super Bowl party this weekend. Here are some tips if you're looking to score a date. . . or something more.
Do some scouting: Find out what other single people are invited to the party and ask your friends in advance for an introduction.
Make a pre-game impression: You'll likely wow all the guests and a potential date when you show up with a killer snack for the party. But you don't have to be a domestic goddess — wear your team's colors and your spirited outfit will likely catch some attention too.
Show your true colors: If you're a sports fan, don't be afraid to show off that you know everything about football. If you're clueless, learning the rules will make for a not-so-awkward conversation.
Flirt via rivalry: You want the Saints to win and the cute guy at the party is rooting for the Colts? Cue the banter. If the rivalry gets super flirty, by the second half you might make a bet that the loser has to buy the other person dinner. Which would mean a first date, and thus, a win-win situation.
Have fun: Don't be afraid to drink beer and eat greasy food. A woman who can enjoy herself is always attractive.
Do you have any tips to offer?