How Flibanserin, Female Viagra, Works
Sexual Reproductions: How Female Viagra Works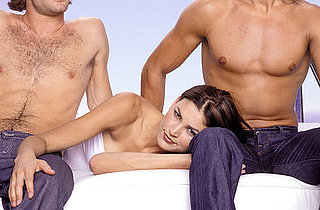 Next month the FDA will convene to decide if the sexily named female libido booster, flibanserin, is safe to sell in the United States. It's taken over a decade to get this far after the last female Viagra failed in the late '90s. But scientists have since learned sexual interest is more than a physiological response, and this new pill targets a bigger sexual organ — the brain.
Flibanserin's discovery was an accident. Originally an antidepressant, it failed to improve moods but had the welcomed side effect of increasing women's libidos. The pill tinkers with the three mood chemicals; it lowers serotonin while boosting dopamine and norepinephrine levels. Researchers really don't know why it piques sexual interest, but the pharmaceutical company behind it has proven it does.
The company rounded up 5,000 women, ages 18-50, who had been diagnosed with hypoactive sexual desire disorder (HSDD), and gave them 100 milligrams daily. After one month the average number of satisfying sexual experiences reported went from 2.7 to 4.5; however, like antidepressants, the placebo had nearly the same effect, raising satisfying sexual experiences to 3.7 per month. While critics say the placebo rise nullifies flibanserin's efficacy, proponents say the pill could make a huge difference for certain women.
Women like a Virginia housewife, who was part of the study, that The Washington Post interviews. "You've heard the saying," she said (I haven't). "Men are like microwave ovens, and women are like crockpots?' Well, I felt like I was a crockpot with a short circuit. I was supposed to be at a woman's peak, but I was fizzling. . . . Gradually after I started taking it, I started having thoughts about sex again."