How to Get Rid of a Clinger
How to Get Rid of a Stage-5 Clinger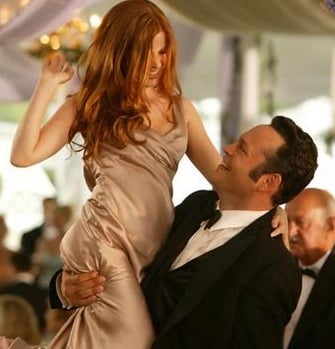 We all know and love Vince Vaughn's crazy antics in Wedding Crashers. His character comes across a stage-five clinger; he's got to get the situation dealt with stat!
Although women are typically associated with this kind of behavior in the pop culture arena, I've met my fair share of dudes who share similarly clingy and incredibly overwhelming characteristics. It can be hard to effectively communicate what you want, or don't want, and end things with someone who can't get enough of you. And doing this all while remaining as kind as possible? It's a very delicate balancing act to say the least. If you're looking to get rid out of a similar situation, here are some rules to live by.
Be honest. Even if it's hard. For some reason this is challenging for a lot of women. When we're talking with our girlfriends about the situation, we sound poised, confident, and like we know exactly what we want. When you put the guy on the other side of the equation, all of the preparation goes to the wind. If you're dealing with a serious clinger, maybe you've tried to end things once, twice, even three times. If you're not meeting in person to talk things through, have a shortlist of what you need to say. Don't try to sugarcoat it. If this guy is a clinger he's going to have to hear it straight up.
Set healthy boundaries. And follow through. You may get the old "we can totally be friends" response. Be wary of this from a clinger. Maybe he's being sincere, but he may just be plotting a way to win back your heart. Set very specific limitations and give yourself a chance to breathe. Don't pick up every time he calls. Don't respond to every text. If you're going to try to forge any type of a friendship in the future, make it crystal clear that this kind of behavior will not fly. Also, remember there are no backsies! A night you're out and feeling lonely is not an excuse to call him and give him any inkling of hope. This is a two-way street, sister. For everyone's sake, it's integral that you hold up your end of the bargain.
Realize it's not all about you. I know, you're really awesome. But he's dealing with his own issues and insecurities. He's projecting this relationship with all its idealized expectations smack dab onto your face. It's not your fault. And ending things does not make you a lady with a heart of stone. You know what you want, and deserve, and that's a healthy, consummate love.
Do your best to be kind. Don't bad mouth him to your friends. Don't talk about all his shortcomings. Maybe he really thought something was there. Even if you've had to deal with your fair share of crazy, do your best to be as kind as possible without sending the wrong idea. Be strong. You can end the cycle and give him a chance to find someone as crazy as he is.
Any other tools for how to be as kind as possible but get the message across to a clinger? Please share them below!